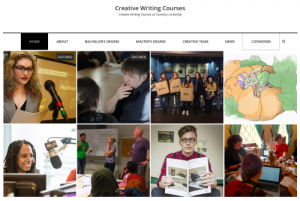 The Creative Writing Course Blog
Cov Words (Print) ISSN 2397-7043    Cov Words (Online) ISSN 2397-7051
Welcome to CovWords online. It showcases creative writing by students studying at Coventry University. We have a printed magazine which is published every September, so look out for it during Freshers' Week on a stall run by the CovWords Magazine Society. If you are a student at Coventry University, you can join the society and help produce the next magazine. The printed magazines can also be found on the fifth and sixth floors of the George Eliot building in special display cabinets.
     On this site you can read poetry and short stories, watch  digitised picture books and listen to radio dramas. You can do this by clicking on the black search bar in the middle of your screen.
     For details on how to submit to our printed magazine, please visit the submissions page. Why not enter the competitions we are running too?