A delegation from the Faculty of Engineering and Computing consisting of Barbara Howell (Associate Dean International), Dr Ramzy Abdei-Gayed (Senior Lecturer in Mechanical Engineering) and Tim Davis (Senior Lecturer in Civil Engineering) visited Malaysia last month undertaking business development with a CU key strategic partner.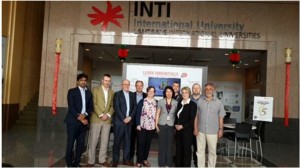 The two main purposes of the visit were to attend an approval event at CU overseas collaborative partner INTI, as well as to support the international student recruitment activity for Engineering and Computing courses.
The INTI approval event had the following aims:
To approve changes to the Computing UG programmes.
To approve BEng Civil Engineering and BEng Mechanical Engineering to be delivered at INTI International University, Kuala Lumpur Campus.
To approve the autonomous franchise BEng Electrical and Electronic Engineering to be delivered at the INTI International College, Penang Campus.
In terms of international student recruitment activities, two main recruitment agencies were visited by the EC delegation and their objective was to provide an overview about Coventry University, in particular engineering and computing courses, viewing this opportunity as overseas agents training. The faculty of Engineering and Computing will look forward to reporting soon on the uptake of international students from their overseas collaborations.