The 6th University Scholar Leadership Symposium (USLS) 2015 took place in Hong Kong this year. The Global Leaders Programme (GLP) gave Coventry University (CU) students the opportunity to represent CU in a high profile international conference. The USLS is an international leadership conference for outstanding individuals to gain a unique out-of-classroom learning experience that gives students confidence, independence and the global skills required of the next generation of future leaders.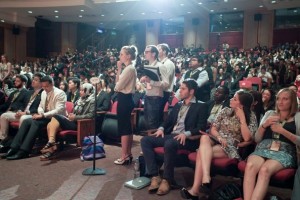 In total, 873 delegates from 57 countries participated in the 6th USLS. The symposium was designed to holistically develop global-minded and forward thinking leaders. Encountering different cultures during the symposium and providing aid to those suffering through a learning journey, students developed strong intellectual and emotional skills. Most importantly, this process helps to bring education, relief and warmth to communities in need.
This leadership symposium had a wide variety of speakers each with a unique view on the world and many different stories to tell. This symposium was trying to teach young motivated individuals that there are a variety of ways to be successful and live a purposeful life.There were so many inspirational and practical talks from all the high profile speakers like Gigi Chao (Founder and Chairman, Faith in Love Foundation), Chandra Nair (Founder and CEO of Global Institute for Tomorrow), Dr Rosanne Wong (Executive Director, The Hong Kong Federation of Youth Groups) and Geraldine Cox (President and Operator of the Sunrise Children's Village Orphanage, Cambodia), who left her life in Australia to start an orphanage in Cambodia.
'Because we found ourselves in a position where we have this pressure to find success, each individual is precisely looking how to fulfil expectations of previous generations and how do we take the world forward to make it a different and better place.' – Gigi Chao
The whole symposium experience was very professionally organised from our breakfast each morning, through to the fantastic speakers and we had a chance to network, meet new people and exchange thoughts.
Besides the talks we had the opportunity to go on a learning day. I chose to participate to help in the community of Sam Ka Tseun, a fisher village. After our guided tour, discovering that the fisher village was ruled by corruption, we spent the afternoon teaching little children English language and played some games with them. We experienced a different view of Hong Kong, it was interesting to see the contrast between rich and poor and reaching out to local communities helped us to further understand the global impact we can all make.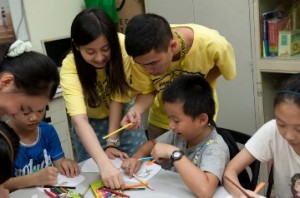 We had a great opportunity to explore the city of Hong Kong discovering the beautiful scenery of Victoria Peak and tasting the street food in the crowded, cosy streets of Mong Kok. We even managed to visit Tian Tan Buddha and some temples, like the Ten Thousand Buddhas Monastery and Che Kung temple, which was close to our hotel.
Overall I would strongly recommend other students to participate in a similar Symposium, as some really valuable life lessons were learnt. This is an enriching and extraordinary opportunity for young leaders and the next USLS 2016 takes place in Hanoi, Vietnam, an opportunity not to be missed, with the focus on "Inspiring Individuals, Transforming Communities".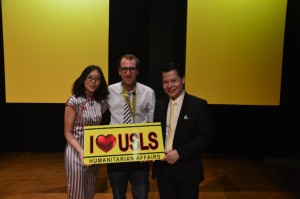 Written by Steven Leenaerts – MSc International Marketing