Coventry University (CU) is proud to announce a new strategic partnership with St Petersburg University of Management and Economics (SPBUME) in Russia. While CU has a number of prestigious partners in Russia, this particular partnership with SPBUME is the first that will allow for student mobility.
Dr Suzanna Tomassi, Partnership Development Manager for the Academic Partnership Unit, played a key part in promoting the partnership arrangements to SPBUME originally, fostering the growing and fruitful collaboration. Therefore, Suzanna was delighted to be invited to SPBUME to present at a ceremony which took place in the grand Saint-Petersburg Ethnographic Museum. The Ceremony aimed at welcoming new first year students to their university.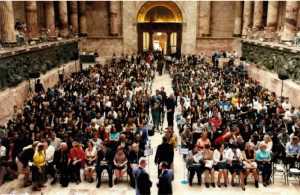 A Memorandum of Understanding between the two universities was signed in January 2015 during a SPBUME visiting delegation, where President Victor Gnevko was warmly welcomed to the United Kingdom.
The partnership arrangements now mean that CU is able to recognise the programmes delivered at SPBUME to allow their students to progress to Coventry directly to year 2 or 3 of our finance programmes, allowing these students to ultimately achieve double degrees. Further discussions are taking place to grow the partnership further and we look forward to a bright future with new and meaningful opportunities for both parties.