The X-Culture project encompasses the assembly of thousands of students from around the world, sharing distinctly different languages and cultures; all with one aspect in common; solving complex business problems. The way it works is that thousands of students and professionals from all over the world collaborate on a business project presented by their corporate partners. The project runs every semester, with participants ranging from undergraduate students to postgraduate students.  The team all use their professional experience, knowledge and understanding; to not only learn the challenges of international business consulting but to solve it. The businesses involved this year present their business challenges and the teams must provide their practical solutions. The competition was incredibly rigorous, encompassing several rounds of intense discussions to decide on who should be considered the winner of the 2015 X-culture competition.
Ellie Hickman led the project that included 27 CU undergraduate students; three of the students Dragos Voicila, Jade McIntosh and Maria Balbae were selected as 'finalists' for their outstanding work. Our CU students' teams were against tough competition, a total of 745 teams including PG and MBA students! The teams worked remarkably well together in becoming finalists and were against tough competition, what makes this even more impressive is that these students were competing against post graduate students!
Furthermore, Ellie Hickman excitingly won the 2015 "Best Instructor Award". This award was based upon a review of 116 performance indicators. The award encompasses the recognition of Ellie Hickmans' vast support in organising and managing the X-culture global collaboration project. The only award recipient from the United Kingdom! A total of 136 instructors from 112 universities in 43 countries took part in the 2015-2 round of the X-culture competition, making it a very impressive award indeed. This not only demonstrates her exceptional teaching skills but remarkable leadership.
Overall, not only do participants receive an X-culture global collaboration experience certificate but gain first-hand experience in identifying the practicalities, solutions and problems that businesses face on a daily basis. The experience of understanding the complexities that a business must consider will serve as a platform for the participants future business ventures. No doubt such an involvement has opened up an array of opportunities as well as being a memorable experience for everyone at Coventry University.
Ellie Hickman – Lecturer in Marketing and Advertising, commented:
"I feel proud to have won this award; this is a testament to my hard working students. This project is not easy as the students have to overcome time and cultural differences working with students across the world. However it's a really unique and rewarding experience and project to be involved in."

"While students initially found the experience of group working in an international context challenging, they also found it extremely rewarding – particularly in being able to successfully use their experiences in job interviews."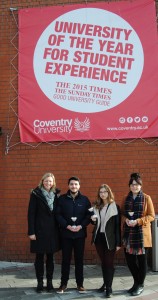 Article written by Hibaq Ibrahim