Linguae Mundi – which translates to 'Languages of the World' in Latin – is Coventry University's innovative foreign language programme aimed at helping learners to explore different languages and cultures.
The advantages of the programme can benefit participants on a personal, academic and professional level. As learners' language skills, knowledge and awareness of other cultures grow, doors can open to international projects, partnerships and trips. Language learning enhances many other cognitive and communication skills and strategies, often leading to on-going professional and personal growth.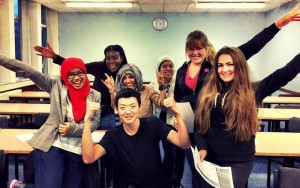 Elisabeth Yav Kanam Ayind says of her time at Linguae Mundi:
'…..Being part of the programme has been a great personal achievement and an amazing experience. By improving my leadership and planning skills, I strongly believe that this programme has made me more employable and more confident….'
Learning even just the basics of a foreign language can be an added advantage when seeking out employment and partnership opportunities in areas such as healthcare, business, the sciences or research. These areas are often staffed or utilised by people of different nationalities and backgrounds. Saying just a few welcoming words in another language can make a positive first impression and build bridges!
The Linguae Mundi training programmes also benefit students by teaching them presentation, public speaking, academic planning, time-management, professional communication, assertiveness, intercultural awareness and disability awareness skills. These are skills which are transferable into a broad spectrum of academic and professional activities.
Peter Burton, who joined the Linguae Mundi programme as an English tutor says:
' Linguae Mundi has allowed me to develop presentation skills, such as presenting in front of people, which is a skill I do not always get to develop on my degree, the training also encourages me to think outside the box…….The training has given me personal confidence in approaching new people, something I find difficult in ordinary circumstances.'
Some Linguae Mundi courses lead to internationally recognised qualifications such as the AQA certificates in foreign languages and the EUROLTA accredited university Certificate in Foreign Language Teaching. Courses run every autumn, spring and summer.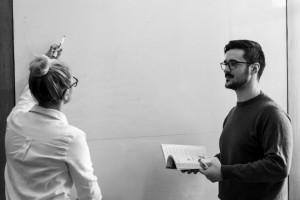 Autumn language classes start the week of 3rd October 2016 and run for 13 weeks until the 27th January 2016. Application deadline: Coventry University students and staff members by the 25th of September 2016. Members of the public by the 18th of September 2016.
For more information on the language programme or teaching opportunities, please contact Linguae Mundi team at linguae.mundi.cge@coventry.ac.uk