Last summer, I went on a search for an internship, scourging the internet far and wide for anything that would boost my CV. I don't remember how, but I somehow stumbled upon Linguae Mundi. I did my research, and soon discovered that it would not only give me a certificate, but it would also give me the opportunity to teach my native language, and what better place to do this than my own university?
From then on out, my summer changed. I made friends, learned about different cultures and languages, as well as gained self-confidence. Teaching classes does that to you.
I had applied for the intensive summer course, imagine 3 weeks of cramming and progressive teaching. However, the training was definitely worth it. For instance, it enabled me to hone my organisational skills as we had to plan every lesson, this also includes preparing a ton of materials.
The tutors always made sure that the sessions were fun and dynamic. Some days we would be running down the corridors. Yes, that was part of the training!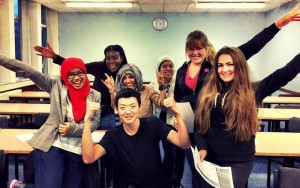 I really want to emphasise that this wasn't just about languages and how to teach them. Often, we would openly discuss and laugh over the similarities and differences of our cultures. During one session, an experienced tutor came over and taught us about his country. We were taught about the traditions, the people's mentality, the divide between the north and the south, and above all, food tips.
I can confidently say that this was an eye-opener for me. As a psychology student, I' am interested in culture and the impact it has on us as a society. These three weeks exposed me to people from all over the world and walks of life. What I learned, is that we're more similar than we think we are.
I was totally immersed in the experience and loved every moment of it. I hope you will too.
Written by Cheyma Belaidi