Hi, I'm Nav, the new Web and Social Media Executive and I'll be writing regular blog posts for you lovely students, so watch this space!
Today I'm going to talk about what things you can do in London this bank holiday weekend (26 – 28 August 2017) to keep you entertained!
Notting Hill Carnival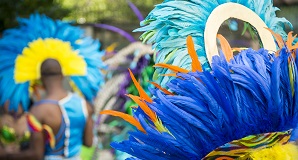 One of Europe's largest festivals with over two million people attending! This street festival represents London's multicultural past and present. Whether you want to party hard with your friends, or would prefer a little family time before starting uni – this carnival is the place to be!
Number 90 Bar and Kitchen Bank Holiday Weekender
Want to drink, dance and party all with live exhibitions, music playing and record stalls available? Then head over to Hackney! On from Friday 25 – Monday 28 August and completely free to enter! For those of you who can party from the Friday to the Monday – you'll get two for one Bloody Mary's for your efforts!
Various Theatre Shows
London has great Directors, big names and exciting new shows! We've listed a few you can see below:
Musical – Evita
Free outdoor theatre – The Odyssey
Family drama – Apologia
American Drama – Against
Shakespeare fans – King Lear
Shuffle Festival
Do you care about your community and culture? Then Shuffle Festival is the place to be! With films, talks, performances, food, music and more!
The Beast
This is the perfect obstacle course for 90s game show lovers where you'll have the opportunity to challenge yourself in a series of 32 physical obstacle courses, from jumping to running and bashing!
So what are you waiting for? Start planning your bank holiday weekend now! Have some fun before you start coursework and revision again.