Nowadays most of us go to the gym to keep fit, healthy, or even reduce stress and sleep better. Whatever your reason, check out the best gyms in London!
PureGym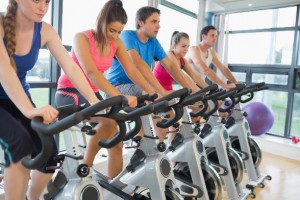 PureGym is just a 15 minute walk from the campus and only £24.99 a month, and if you have an NUS student discount card you get up to 20% off!
Whether you want to work out in the gym or would prefer to go to classes, PureGym has it all. From cycle and combat to legs, bums and tums, pump and tone.
Fit4less
Fit4less is just a 10 minute walk from the campus and has all the facilities you would need for a great workout! It's £29.99 per month and they have personal training available as well as a Sports Injuries Clinic. If you're unsure, sign up for a free day trial membership and check the place out!
Pure Fitness Shoreditch
If you want a tailored training programme that takes into consideration exactly what you want to achieve, then Pure Fitness Shoreditch is the ideal gym for you! Your Personal Trainer will work with you and even discuss your diet and nutritional intake with you. If you're still undecided on whether or not you want a PT, they do offer free consultations, so there's no harm in popping in!
Or if you are quite spiritual, they have a Rocket Yoga class available where poses from traditional yoga are utilised but this is an easier version of yoga – at £8 per class.
If you've had issues with your back in the past and fancy trying physiotherapy – this is also available, as well as sports massages, but be warned… sports massages can be pretty painful at time – however, you will feel much better afterwards!
Fitness First – Liverpool Street
Fitness First is one of my favourite gyms because there is a such a large variety of classes to choose from. Whether you want to do aerobics, circuit, 20 20 20, Pilates, boxing, aqua Zumba, ballet or lots more!
There are also lots of facilities available including a swimming pool, as well as an all-important skin cleansing helper – a sauna! Plus Fitness First is less than a 10 minute walk from the campus. Students pay £46.00 per month. 
Virgin Active
Virgin Active is ideal for those of you who want a large range of equipment to use, as well as classes. You also have the option of opting for a Personal Trainer.
There is a swimming pool for the swimming enthusiasts as well as a steam room and sauna. This is a pricier gym than the others mentioned though, at £86 per month plus a £30 joining fee.
If you require any further information don't hesitate to contact us.