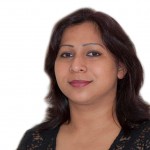 by Rehnuma Ali-Choudhury
Rehnuma is a Senior Lecturer in Marketing and Course Director of the BSc (Hons) Applied Global Marketing at Coventry University London. In this post she explains how her students have had the opportunity to learn more about influencer marketing.
Influencer marketing is a contemporary trend whereby social media is utilised by opinion leaders to entice and persuade the target market to have a more positive attitude towards the brand.
Through our marketing modules here at Coventry University London we enable our students to make better sense of the business world. To aid their ability to apply marketing theories into real life scenarios, we regularly invite guest lecturers to share their experiences with our students. These guest lecturers are experts in their own field and listening to their enchanting stories to make their brands successful are quite motivational for our students.
For example, students had a guest lecturer from an influencer marketing platform TRIBE which is a self-serve marketplace connecting social media influencers with leading brands to create powerful 1:1 campaigns. Their campaigns enable brands to engage more effectively with their target audiences.
Our students had a wonderful discussion with the brand manager of TRIBE. Particularly they were delighted when they realised how their theoretical learning helped them to understand how the real life application actually works.
Find out more about BA (hons) Applied Global Marketing.