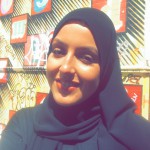 by Sumia Labid
Summer 2017 was a turning point in my life, and I had a very big decision to make. Do I continue working from home as a hairdresser while looking after my daughter full time, or do I start a new journey by finally doing a degree?
Getting back into education had been something I had wanted to do for years, not only for myself but for my daughter too. However, being someone that avoids big changes, I had put it off for too long. After discussing this with my family and friends, I realised that now my daughter was starting nursery this was the best time for me to begin studying again. After deliberating my decision for months on end, it was only in August that I decided to take the plunge and begin my university experience.
Mistakenly believing I had missed the deadline for September at all of the universities I was interested in, including Coventry University London, I found myself in a very difficult situation. Panicking I would be left without a place anywhere, I accepted an offer at a university that I wasn't the most excited about, on a course I didn't really want to study.
At this point I was relieved to finally be on the way to beginning the rest of my life at university, but I couldn't shake off the feeling of regret that I wasn't completely satisfied with my choice. So I took to the internet and started my bid to find a better option. It was at this point I stumbled across Coventry University London's Clearing process and realised there was still hope for my Accounting degree yet. I immediately called the campus and explained my situation, to be told that it wasn't such a problem after all and there were places left for me to enrol onto. This was exactly what I needed to hear, and suddenly I felt a sense of relief. So on completion of my application and after sending my transcript over I was told I could enrol in September and the rest was history. I was so relieved how simple and straightforward the process was, and was excited to finally be on the path to success.
My clearing experience has taught me a valuable lesson to never give up on what you want in life and that nothing is unattainable – with a little perseverance and ambition you're able to gain what satisfies you. I am now entering into my final year of my International Finance and Accounting degree and working towards graduating with honours. However had I settled with the course at the university I wasn't so enthusiastic about, I certainly wouldn't be feeling so optimistic and accomplished.