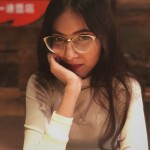 by Iylia Husni
Iylia is a first year BA Global Business Management student. She is president of the Enactus Society, working on projects to tackle UN sustainability goals. Iylia is a Student Ambassador, and has a passion for trying new things.
With almost two million apps on the apple App Store how do you know which ones are essential to life in London? I've compiled a personalised list for you that showcases everything from lifesavers such as Citymapper down to apps for exclusive student discounts. Let's jump right in!
Travel
Citymapper
Gone are the days of using physical maps to navigate around the complicated yet comprehensive public transport system in London. Citymapper is a one stop app to get you to your desired location. For tube travel, the app even suggests which tube carriage is the best to be in to ensure you have an easier exit when you arrive.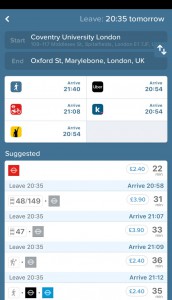 LuckyTrip
For those wanderlust days on a budget. Lucky is a holiday planner app which plans a full trip for you based on your set budget. The trip planned includes transport, accommodation and also activity ideas all within the price point set. One tap away from a much-needed vacation without breaking the bank.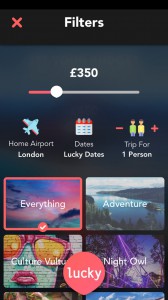 Organisation
Google Calendar
As a student balancing your life might be overwhelming. For me, balancing studies, work, extracurriculars and a social life was almost impossible but scheduling things really does help. It reduces procrastination and you always know when things are coming up especially those deadlines for assignments. You can also link it to your email so that it's synchronized between all your devices.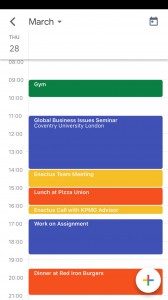 Moodle
A must have if you're a student at university for obvious reasons. Moodle is a key component in your student life at Coventry University London. With updates on events happening on campus such as guest talks and workshops there are also lecture contents such as PowerPoint presentations and quizzes available so that you have it handy on the go. It also has direct links to your timetable and facilities such as booking an appointment with the careers team or your personal tutor.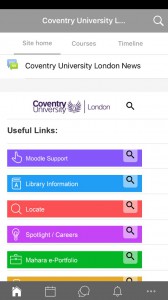 Food
OpenTable
With thousands of restaurants to choose from. OpenTable makes sure that sorting out dinner plans is as easy as ever. To save myself from the trouble of being on hold to call in a reservation or having to wait in line for hours I can just book directly from my phone and have it confirmed on the spot. You can also earn points which can be redeemed for rebate vouchers and more. Some restaurants also have exclusive deals for bookings via OpenTable.
Deliveroo/UberEats
We all have days where cooking or leaving the house for food is just a bit much. That's where food delivery apps such as Deliveroo and UberEats come in. Both these apps are very similar with the main difference being the restaurants available which is why I suggest you getting both for a wider menu variation. For those who frequently order take outs, you can subscribe to Deliveroo Plus (£11.49/month) for unlimited free deliveries.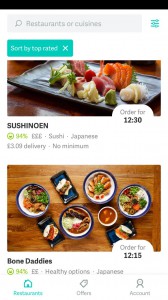 Extras
UNiDAYS/Student Beans
Everybody loves a good discount especially when they're deals featuring brands such as JD Sports, Apple, Dominos and more! I personally recommend having both as they often have deals exclusive to their respective app. The sign-up process is quick and easy, and you'll be surprised just how much you can save!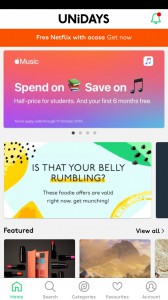 Splitwise
Most of us have experienced a time where you pay first and split the bill later whether it's for dinner, groceries or rent. Splitwise makes sure that you are able to easily keep track of your shared expenses and everyone is aware of what they owe. You can also save receipts on it for future reference.