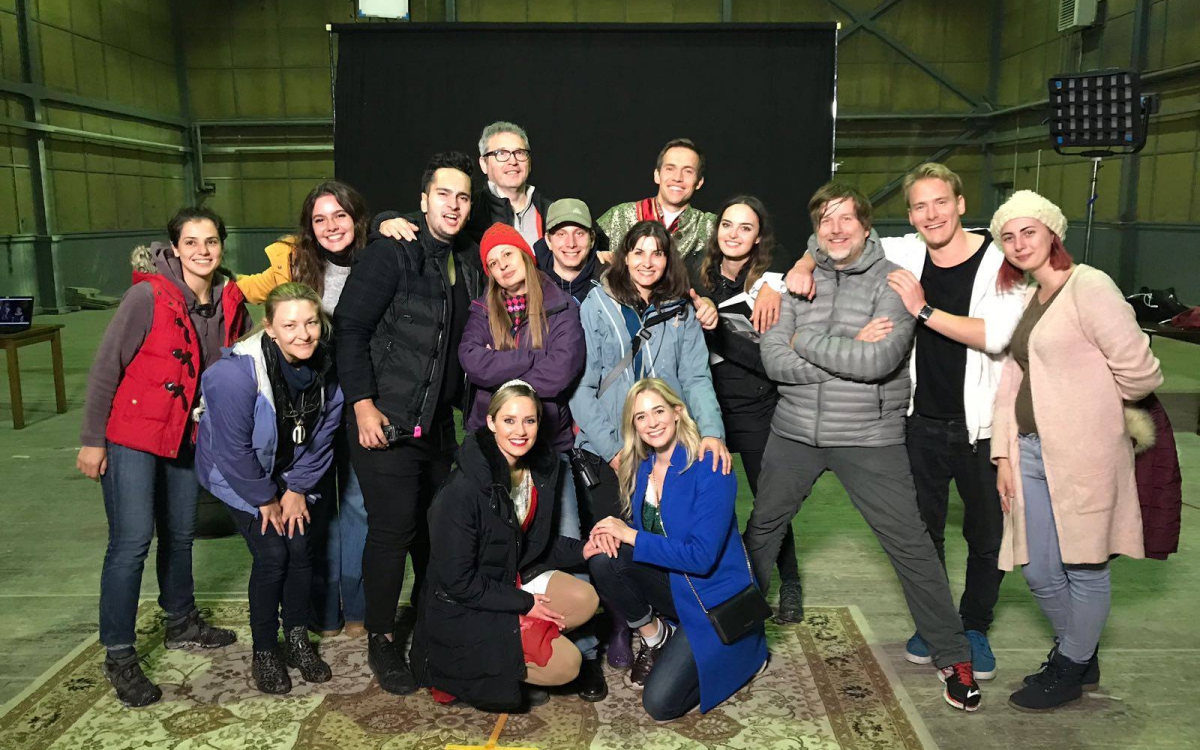 Media Production Student Ioana Dumitrache works on 2 Hollywood feature films in Romania
Media Production Student Ioana Dumitrache spent her placement year working on 2 major feature films, in television and for the National Film Archive in Romania.
Read Ioana's story here:
"I'm a final year Media Production student who has just returned from a placement year working in the Film industry.  For my placement year, I've chosen to work in my home country, Romania, where I've tried various jobs in different film departments until finally deciding to become a Colourist.
My first job was as Office PA (I've worked in the Production department) for a Hallmark movie that aired on the Thanksgiving Day. "Christmas at the Palace" is a festive movie starring Merritt Patterson and Andrew Copper about "a former professional ice skater who is hired by the king of San Senova to help his daughter for the Christmas pageant. Of course, love and tradition are at odds, and it's a mystery which will win". It was a wonderful time working for this project, as the set decoration were stunning, full of Christmas magic, and we even had to build an actual ice rink! As for me, it was an intense experience as I had to work 3 weeks prior filming on all the preparations for the movie (from buying ice rink supplies to finding the perfect bulb light) and during the actual filming we were working 12 hours+ on set. Overall, I figured out that this job wasn't for me (nor for my creative self), because the production process means more paperwork and "movie planning" than actually being part of the movie itself. So, after the farewell party, I've changed the department and got into one of the best editing studios in Bucharest.
I had the huge opportunity to work for the 5th sequel of "Dragon heart: Vengeance" (which is now produced by Universal pictures) and to be trained both as a Lab technician and 2nd Assistant Editor. For the most part of the movie (that was shot 300 km away from Bucharest) I had to work the night shift and learn how to slightly colour correct the film, to manage the data flow, to back up the footage, to send dailies to Universal and to synchronize the image with the sound in Avid. The rest of the movie, I've been trained by the post production supervisor and I've learned how to do the job of both 1st and 2nd Editor Assistant. Also, the main editor told me the story of his job, the secret of how to cut and paste the footage to make it a succinct narrative and how you, as an editor, should create a flow that will put the audience in trance.
After this job, I've decided that I should slow thing down a bit. Just before Christmas, I've started working as an image editor for the National Film Archives, where I've learned in more depth Colour Grading. Even though I had to scan the old reel, to recompose the movies and to make them viewable, which was a really stressful job to do, they were the perfect material to practice my hand and my eye; and so, this experience led me to my dream job: full-time colourist.
One of my colleagues from the Archives recommended me as a hard-working Colourist for a TV show that lasted 3 months and was the most rewarding, yet the fastest paced job I've ever encountered. We were working on 2 shifts (I was the night shift), 6 days a week and we had to colour grade 3 episodes (90 minutes each). This was an enormous amount of work for 2 people, but I've managed to always deliver my parts on time. It was also rewarding for me, personally, as I had to work close to the best Colourist in Romania, who taught me how to properly give a movie "the look".
My biggest accomplishment for this year is that I've worked on my own for a GOPO awarded, young and picky director. She wanted to present her upcoming movie to the film festivals, so she wanted somebody to make the colour grading for her (ONE LINER). I was recommended for the job and, knowing her reputation, I was anxious. But we got along very well and I've managed to satisfy her taste. After 2 days of very hard work next to my first client, she left the studio so happy that she hugged my boss and told him she wanted to work with me again (and only me). I was more than thrilled and I've started, from that day on, to be more confident in myself, in what I've learned and in my eyes of a young colourist."