Remember, remember, Bonfire Night's in November!
(Yes, yes, I know that's not how it goes – we're using a bit of artistic licence here)
Previously we covered different ways for you to enjoy Halloween, now it's time to celebrate Guy Fawkes not blowing up Parliament or killing King James (more about that here). We've unCOVered the best firework displays in and around Coventry, and found the perfect alternative option for those afraid of big bangs…
Local firework displays 
Friday 30th October:
Sat 7th November:
And the big one:
Kenilworth Round Table Bonfire Gala at Kenilworth Castle. One of the biggest firework displays in the Midlands set against the backdrop of castle ruins – simply spectacular!

Kenilworth, Sat 7

th

, £7.50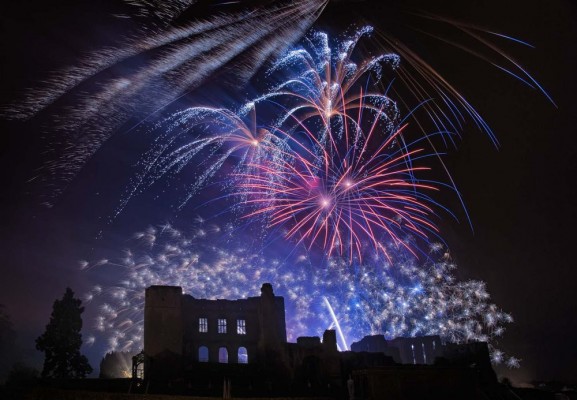 Or for the thrill-seekers, why not throw in a rollercoaster or two…?
Drayton Manor are celebrating their 65th anniversary with a Halloween-themed three day Firework spectacular:
Once the sun goes down, make your way to the lake to be dazzled by our breath-taking fireworks. Set to the original War of the Worlds music, the fantastic colourful array of lights is set to be the one of the biggest and best fireworks display in the Midlands.  Not only will the display feature breath-taking fireworks it will also feature exciting props, aliens and space ships plus a 30ft high Martian.  This really is an event not to be missed!"
Rides will be open late till 9pm. If you book now, right now, tickets are currently just £20, saving £16 off the normal entrance price!
Fancy something a little different?
If toasting marshmallows and running away from errant rockets isn't your thing, how about a trip back in time?
Brought to you by the Award Winning team behind Uncle Richard and The Austerity Games, Gunpowder Plot uncovers the story behind Guy Fawkes and the plot to blow up Parliament.
Claim your seat in Parliament and watch your back as the finest doctors of Post-Tudor spin try to find the best way to put the tale before the King and Country. If they can further themselves or hinder their enemies along the way then all the better. But King James VI (&I) is not easily fooled and has a shrewd eye for intrigue. Countrymen and women insist on remembering things differently and far over the seas in Europe, the Jesuit general and his army of priests are busy scribbling down their own version of events. The plots thicken…

Tell Tale combine primary sources, vibrant storytelling and innovative interaction to draw you in to the Jacobean world of spies, plots and counter plots.
Find out more here!
Finally, if all that noise and drama isn't your thing, then how about…
Silent Fireworks!
Hop on the train to Birmingham Botanical Gardens on November 5th for a spectacularly…quiet…. fireworks display!
'A fireworks display with a little bit of a difference, with no bangers or loud noises. 'Taste and Liquor' will be here providing excellent food stalls out on terrace overlooking beautiful landscape gardens all day.'
Use our comments section to let us know what you have planned for Bonfire night 2015!
Comments
comments