Ali from the Office of Teaching and Learning (Moodle lady to a lot of our students!) and all-round superstar, has this exciting news to share with Coventry's students…
We are always trying to come up with wonderful opportunities for our students and getting you experiences overseas is one of the things we excel at! That's why the University's Centre for Global Engagement (CGE) has launched a competition to win a trip to Brazil or Malaysia!
The exciting competition aims to capture students' mobility. In other words, if you have had a positive global experience, then they want to hear about it!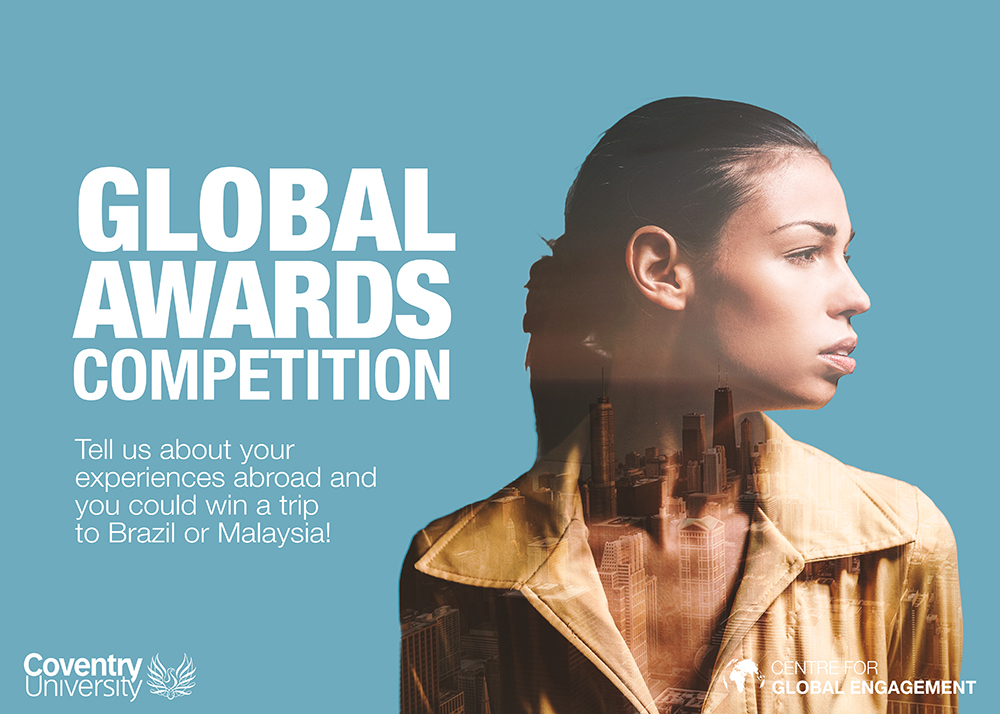 Here are the details…
The 'Global Awards Competition' gives our students the opportunity to write about their overseas adventures in 150 to 250 words and how it has made a difference to their professional and cultural development while studying at Coventry University. You only have to speak to any of our students who have been on the Global Leader's Programme or taken part in a study trip, to know how much they get out of it and what a difference it has made to their lives.
Come to Coventry if you want to see the world…
Data from the Higher Education Statistics Agency (HESA) showed
that in 2015/16 the University provided a total of 2818 student experiences, which means more students travel and learn abroad as part of their course at Coventry Uni than at any other UK institution!
Now that's something to be proud about. According to the Higher Education Funding Council for England (HEFCE) gaining international experience makes students more employable and those with international experience obtain higher starting salaries, develop the global skills employers require and achieve better career progression
The Centre for Global Engagement supported over 12,000 students in 2015/16 to enable them to engage in internationalisation across the globe. They also provide a range of programmes and funding schemes to assist them to become truly global graduates.
Share your story…
It is because our students get the opportunity to travel, that the Global Awards Competition was launched so that they can tell others about their adventures and encourage them to take advantage of what is available.
The incentive for taking part in the competition is that the best two entries will win flights and accommodation to Brazil or Malaysia and two lucky students can go off and embark on a new set of adventures. Now that's what I call a student experience!
The deadline for the competition is 31 July. Find out more, see the terms and conditions and more importantly ENTER! by heading to the Student Portal.
So get writing and GOOD LUCK!
Comments
comments