First of all, congratulations to all of our Coventry University graduates! It is indeed that time of year again and graduation week is always a busy time, with so much going on, you're bound to miss out on some of the small moments. This is why the UnCOVered team want to share a recap of all things 'Graduation' to help you remember your special day.
Celebrating all Graduates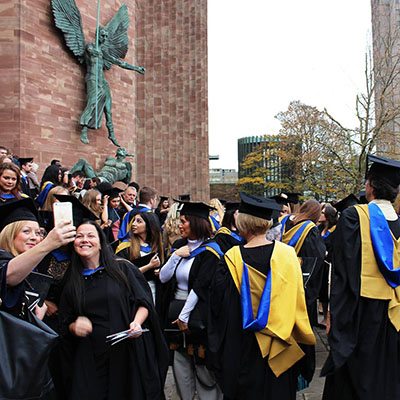 Camera- ready
Selfies, boomerangs, videos?! There were so many ways our graduates captured their special moments and we want you to share them with us!
 Hat throwing
Graduation always consists of lots of hat throwing- and we wouldn't expect anything less! Our graduates were mortar-board ready and we captured some fantastic photography! With the idyllic background of the Coventry Cathedral and outside some of our favourite university buildings.
Thinking about postgraduate study? Check out some of the postgraduate courses we have available.
Want to share some of your special moments from graduation that we may have missed? Or memories from your own graduation? Let us know either in the comments below or on social media!
Comments
comments