Charity Fashion Show Raising Awareness of Domestic Abuse [Sophie Pavey, Sociology student]
In June of this year, I hosted a fashion show in partnership with Coventry University Students Union and Coventry Haven Women's Aid. For those of you who don't know, Coventry Haven are an organisation local to Coventry. They are part of Women's Aid, a national charity which helps women who have been affected by domestic abuse. I began volunteering with Coventry Haven in February 2019 and since being part of the amazing team of empowered women, I have learned so much and become more of an empowered feminist myself.
So, the fashion show was held on June 7th at Coventry University's venue, Square One. Although it was held in June, preparations started a long time prior to the event. It actually started when I was doing my training for Coventry Haven in February. After training one day, I got chatting to Jaime, the Development and Funding Officer at Coventry Haven; she informed me about the mass of clothes which were continuously donated to the charity for the women in their refuge housing. It had gotten to the point of being a bit out of control and the charity had more clothes than they knew what to do with. That evening, I went home and came up with the bright idea of holding a fashion show where we could sell the clothes and sell tickets for the event, thus raising money but more importantly I knew I could use this event as a platform for raising awareness of domestic abuse.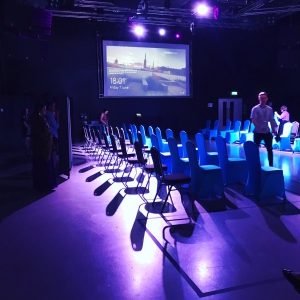 Luckily, the day before I met Jaime, I had received a rather inconspicuous email from the Coventry University Student's Union which read something like "Want to host an event? We have funding for that! Meet in the EC building at 1pm this Thursday to find out more!". I was intrigued by this email even before I knew I wanted to host an event just because of how mysterious it was. Anyway, I went to the meeting where I met Luke, the Faculty Engagement Coordinator at Coventry University Students Union. I told him about my idea, and he said it was a great idea and that he and his team could make it a reality which was surprising but very exciting for me.
From here, there were endless emails and Skype calls between Luke, Jaime and myself to put together ideas about what we wanted to include, who the models would be, the venue, music, catering, cat walks, clothes, tickets – you name it, we had a list for it! The fact that I was doing this event whilst also volunteering and still being a student (aka slaving over my disso every day) meant that I was very stressed at times, but I kept telling myself it would all be worth it and that I needed to make the most of my time and facilities at Coventry University.
During the planning for the event I was lucky enough to become an Ask Me Community Ambassador for the Change That Lasts project, which was a nationwide intervention run by Women's Aid with the aim of raising awareness for domestic abuse and encouraging women to seek help sooner. The details for the project and how you can get involved are linked below and it is open to men and women who just want to use their voice to raise awareness, challenge stereotypes and start conversations around domestic abuse. I decided that I would use the fashion show to do just that and through my ambassador training I was able to invite people who I had met there to come to the show and take part if they would like. This is where I met Dolly, who holds the title for Mrs India UK, as well as other titles. She agreed to model in the fashion show which was great as she had a large audience who would now be engaged with domestic abuse awareness raising.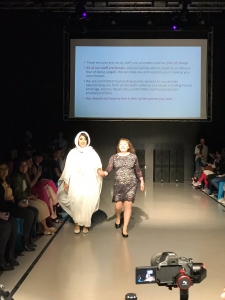 As I mentioned, volunteering at Coventry Haven meant being part of a team of empowered women who wanted to make a difference and help to change the lives of as many other women as possible. This meant that I also had the chance to ask these women if they wanted to take part as models in the fashion show. Of course, at first it was hard to convince a few of them but being the amazing ladies that they are so many of them jumped on board to help me out. As well as the models from Coventry Haven, Luke from the Students Union was able to find a few student models from Coventry University who agreed to take part in the show. You will see all of the models who took part in the pictures and the documentary link provided. These women took part to help out other women who are affected by domestic abuse by raising awareness of the subject, but also, they did it for themselves because how invigorating is it to walk down a runway and know that by doing it you could be part of something that saves lives?! I cannot thank the lovely ladies who modelled enough, you all did an amazing job and I am so proud of you all!
Overall, we had around 100 people at the event including guests, models and everyone who helped behind the scenes. £450 was raised from the ticket sales and the sales of clothing items which had been donated to Coventry Haven.
This event has enabled me to realise that by taking advantage of the opportunities given to you then actually great things can be achieved. The best part of this experience was how humbling and inspiring it was that so many people agreed to help me and to help out with the show for such a great cause and free of charge. I would like to thank the women at Coventry Haven for all of their hard work, I would like to thank Liubomir L. Lissitchkov for volunteering his time to take photographs for the event, I would like to thank Brandon Murphy and Raluca Maria for putting together a short documentary of the event, which I have linked below, I would also like to thank Luke Austin and his team from Coventry University Students Union for funding and raising awareness for this event, I would like to thank Ralitsa, Denitsa, Sandoria and Elena for volunteering to model, I would like to thank Lois Pavey and Mia Whymark for doing the makeup, to my lecturers Tom, Charlotte and employment tutor Kavita for all of your help and support leading up to the event and for the opportunities that you have given me which have risen from the event, and finally I would like to thank my friends Dec and James who helped with ticket and clothes sales on the night, and my family who all helped on the months leading up to the event and put all of their hard work in on the night as well.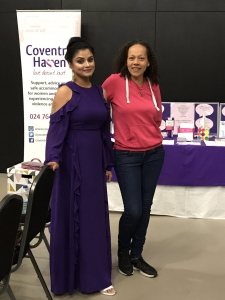 The links to the Instagram profiles for the whole team mentioned above will be linked below please feel free to check out their profiles as they are all amazing at what they do!
Finally, I'd like to say to any students reading this, think about what you can do to make a difference, and how you can make yourself stand out to employers and really to just make yourself proud. I know it seems like you get told this all the time at uni and I am sure you are sick of hearing it but genuinely anything you can do to add to your CV and to give yourself an edge over your competition is so worth it, plus it makes you feel good and proud of yourself! So, network, speak to your lecturers, employment tutors, friends, charities, find people on Instagram, whatever you can do if you put your mind to achieving something then it can and it will happen, you have just got to make it happen!
Coventry Haven Women's Aid:
@coventryhaven22
Photography:
@liubomirlissitchkov
Film Production:
Brandon Murphy
@drmctchrmusic
https://vimeo.com/348700322?fbclid=IwAR08C8dTs7MPMfDHUKwkPh4lnD9bC3NtpS6D7_QQUDFo5i8bgkTdPb5dzUw
Raluca Maria
ReelMasterProduction.com
https://www.youtube.com/watch?v=nVXq6j8VjTk&fbclid=IwAR2H3dlcg6VklPsoLXPNqd_aPCbeRsY10_m9aj3IAGl9D268e9Gm3B94rUU
Coventry University:
@cusucucoventry
@squareonecovuni
Student Models:
@ralitsauzunova
@denitsza
@i.am.a.hot.potato
Makeup Artists:
Lois Pavey
@mua_lois
Mia Whymark
@mwglamour
Details on how to get involved with the Change That Lasts Project:
https://www.womensaid.org.uk/our-approach-change-that-lasts/askme/