New book by Sociology Lecturer, Marcus Maloney, 'Gender, Masculinity and Video Gaming', out now
New book out now by School of Humanities Sociology Lecturer, Dr. Marcus Maloney, with Associate Professor, Steven Roberts from Monash University and Dr. Timothy Graham from Queensland University of Technology, and published by Palgrave Macmillan: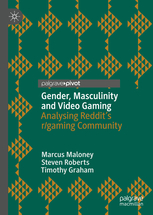 Gender, Masculinity and Video Gaming: Analysing Reddit's R/gaming Community
This book examines gender attitudes in Reddit's popular video gaming community subreddit, r/gaming. Video gaming has long been understood as a masculinised social space and, while increasing numbers of girls and women now engage in the pastime, boys and men remain the predominant social actors. Furthermore, the gaming community has been widely identified as a prime case study in broader concerns around 'toxic' masculinity and gendered online harassment. However, there is also underexamined evidence of a growing movement in the community coming forward to voice its collective opposition. Utilising an innovative combination of computational and qualitative methods, the research undertaken here exposes this fuller picture, revealing significant contestation and a spectrum of attitudes that mark out this popular gaming community as a battleground for gender (in)equality. Students and scholars across a range of disciplines, including gender studies, media studies, cultural studies, sociology, games studies and computer sciences, will find this book of interest.
Reviews
"Online gaming cultures can be intense sites of affect. In this compelling account of the aftermath of the #GamerGate controversies concerning women in gaming, the authors trace how misogynistic discourses and feelings were expressed and contested. Devoting particular attention to discussions on the Reddit platform, this book tells an important story of how gendered harassment and hate speech against women can be both intensified and challenged via these kinds of online engagements." (Deborah Lupton, Professor, Social Policy Research Centre, University of New South Wales, Australia)
"In Gender, Masculinity and Video Gaming, we are taken into the politically charged world of video gaming and masculinity, not through simplistic takes on infamous media controversies but by a careful charting of the gaming community's engagement with gender issues. Recognising the genuine desire to see positive social change within the industry and the wider gaming community, alongside the limitations to progress so far, this important book should inform thinking on how gender inequality is further eroded moving forward." (Mark McCormack, Professor, Sociology, University of Roehampton, UK)
"This is a timely and much needed text. Through new and original research Maloney, Roberts, and Graham explore the aftermath of the #Gamergate scandal, and suggest that this constitutes what may be a key turning point in what is the increasingly contested gamer community. This well written, theoretically and empirically informed text, explores various aspects of the evolving nature of gamer communities and identities, and points to a future where we may be seeing the start of a more inclusive space. This is therefore an important source for any scholar or student interested in gamers, game communities, and how these are changing." (Gary Crawford, Professor, Cultural Sociology, University of Salford, UK)