Keiko Fujimori, enjoying it while she can. EPA/Cesar von Bancels
Guest post by Neil Pyper
After a rollercoaster campaign that saw massive street protests and candidates disqualified and accused of corruption, the first round of Peru's presidential election has failed to yield an outright victor.
The clear winner of round one was Keiko Fujimori, a former first lady and the daughter of former president Alberto Fujimori, who's currently serving a 25-year prison term for corruption and human rights violations. But having failed to garner more than 50% of the vote, she now faces a run-off against Pedro Pablo Kuczynski, a former prime minister and finance minister.
This is something of a surprise. Recent polls had indicated that Veronika Mendoza, a left-of-centre legislator running for the Frente Amplia party, was gaining momentum and on track for second place. But in the end she came a relatively weak third behind Kuczyunski, leaving Peruvians with a choice between the two establishment candidates.
But just because Fujimori and Kuczynski are both experienced fixtures of the centre-right governing class doesn't mean that their contest will be a quiet one.
Even though day-to-day politics in Peru has been relatively stable since the elder Fujimori's reign ended 2001, elections tend to be much more volatile and unpredictable. Inevitably, this periodically raises concernsthat the country's current political and economic stability is shakier than it seems.
Indeed, in the run-up to polling, suspected guerrillas from the dreaded Maoist Shining Path insurgency attacked a vehicle delivering election materials in a remote coca growing region in the central Andes. Two soldiers and a civilian driver were killed.
This year's presidential race has been controversial and messy, complicated by an array of candidates. Besides Fujimori and Kuczynski, there were two former presidents, Alan Garcia and Alejandro Toledo, alongside a number of less established political players.
The political manoeuvring during the first round was so lurid that the Organization of American States (OAS) went so far as to call the election "semi-democratic". Electoral authorities disqualified two candidates, Julio and Cesar Acuna, accusing the former of failing to follow correct selection procedures and the latter of distributing cash to potential voters at a campaign event. Guzman had been seen as an increasingly strong challenger, and his supporters derided the pretext for his disqualification as a technicality.
In addition, there are reports of the two leading candidates breaking the same rules he did: Fujimori's campaign was accused of distributing largesse to potential voters, while Kuczynski's team allegedly handed out free beer at a campaign rally.
Continuity vote
Early in her campaign, Fujimori tried to distance herself somewhat from her father. Nonetheless, she has been dogged by concerns that she might pardon him and release him from prison.
There have also been questions about her commitment to constitutional democracy, given the violations during her father's reign. For example, a so-called "self-coup" in 1992 saw Congress closed and the constitution rewritten.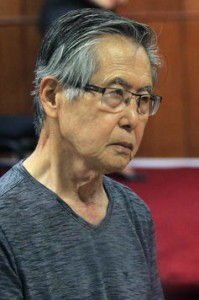 But despite his tainted legacy and incarceration, Alberto Fujimori still enjoys passionate support. Many Peruvians credit him with defeating the Shining Path's guerrilla campaign and curbing the hyperinflation that plagued Peru in the 1980s and early 1990s.
His daughter has tapped into this vein of deep support, which helps explain her strong first round performance. However, concerns about another Fujimori potential presidency have also led to large and growing demonstrations against her.
Kuczynski, meanwhile, supported Fujimori when she ran for president in 2011, ultimately losing a run-off to the current president, Ollanta Humala. Neither Kuczynski nor Fujimori would do much to change Peru's neoliberal economic model, which has prevailed since the early 2000s and revolves around mining and the exploitation of natural resources. It has fuelled more than a decade of high growth, but has also left the country extremely vulnerable to falling commodity prices.
In contrast, Mendoza was seen as a fresh face with a very different vision. She pledged to rewrite the constitution to make it less pro-business, and also promised to do more to protect indigenous communities against environmental damage caused by mining and hydrocarbons companies. This anti-establishment message gained some traction, but ultimately proved too radical to convince floating voters. In addition, elements of the media managed to portray her as a radical leftist and terrorist sympathiser.
Advantage Kuczynski
This sets up a contest between two continuty candidates – and despite Fujimori's convincing first round victory, Kuczynski enters the run-off with an edge over her.
Fujimori's polarising surname means almost half of Peru's voters will apparently never vote for her. That means Kuczynski is well-placed to pick up substantial votes from the defeated and excluded first round candidates.
Loud and clear. EPA/Ernesto Arias
But while he might tempt Mendoza and Barnechea supporters whose priority is to keep Fujimori out, many of them see Kuczynski and Fujimori as fundamentally the same, and may well spoil their ballots or not vote at all.
So while the emergence of two contenders with relatively similar platforms should lead to a more orderly second-round campaign, there is plenty of scope for further surprises. More and bigger demonstrations against Fujimori are almost inevitable. But just as her lineage has already caused her trouble, Kuczynski's past as an international banker means his financial affairs are likely to face close scrutiny, too. Stay tuned for an ugly and volatile couple of months.
Originally written for 'the Conversation'.
Comments
comments