The chief design officer of Land Rover is set to be awarded an honorary doctorate of arts by Coventry University this week.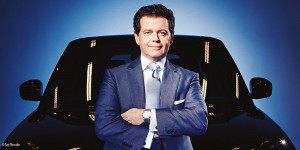 Gerry McGovern, who was born in Coventry and has headed up the design studios of some of the world's best known car brands, is being honoured in recognition of his achievements as a leader of major innovation in automotive design. The former Binley Park School pupil and Coventry University alumnus is best known for designing the iconic Range Rover Evoque – a vehicle that has played a key role in Jaguar Land Rover's global growth and success. He followed that with an all new Range Rover Sport and the Range Rover, and – more recently – the Evoque's convertible sibling and the new Discovery Sport.
Gerry's illustrious design portfolio also includes the Land Rover Freelander, the critically acclaimed MGF sports car, and – while managing design studios for Ford Motor Company in the USA – the rejuvenation of the Lincoln-Mercury brands. After completing a degree in industrial design at Coventry University in 1975, Gerry went on to specialise in automotive design at the Royal College of Art, getting his break as a designer for Chrysler in Detroit before returning to the UK in 1980 as senior designer for the Peugeot Chrysler Group.
He joined Land Rover as director of advanced design in 2004, before becoming director of design and chief creative officer – in which capacity he now juggles responsibility for the design of the company's new models with a wider remit developing the look and feel of the Land Rover brand as a whole. 
Gerry will receive his honorary doctorate during the University's graduation ceremony in Coventry Cathedral on Wednesday (April 13th), alongside over 1,000 graduates who will be awarded their degrees.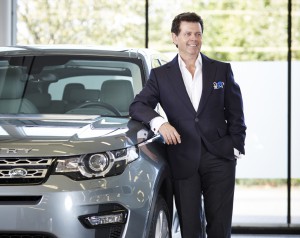 Gerry said: "As a young child, going to Coventry city centre was always an exciting occasion. The Round Café in the city's lower precinct was a symbol of Coventry's post-war optimism. My mother worked as a waitress there for a while and as a child I loved to go there and sit next to the large expanses of glass. It was so cool. Having studied industrial design at Coventry University I moved to London to do a master's degree in automotive design. At that time the Royal College of Art was a melting pot of British creativity. My time there gave me the opportunity to develop my own design sensibilities. But the real journey started when I began working in a professional design environment. While travelling the world working at the highest level in automotive design I have never forgotten my Coventry roots, so it is a great privilege to be bestowed an honorary doctorate of arts by Coventry University. It gives me a great sense of pride to be recognised by the city where I was brought up, and my parents would have been very proud."
Professor Seymour Roworth-Stokes, executive dean of the University's Faculty of Arts and Humanities, said:  "Gerry's impact and influence on automotive design not only as a profession, but also as a central and emphatic part of a car maker's entire brand, is unrivalled in the industry. His design leadership at Land Rover has played a significant role in making Jaguar Land Rover one of the most successful and noted vehicle manufacturers in the world today, and is ensuring Britain – and indeed the West Midlands – is firmly on the global map for automotive and industrial innovation, where it belongs. Many of our students and graduates from our automotive and transport design course continue to enjoy the benefits of the close ties the University has with Jaguar Land Rover's design operations – from visiting lectures, clay modelling support and work placement opportunities – and in Gerry they have an inspirational figure to aspire after. We're very proud that Coventry University, in its former guise as the Lanchester Polytechnic, had a part in shaping Gerry's design journey in its early days, and we're delighted to be awarding him an honorary doctorate of arts this week."