There was excitement at Coventry University recently when The Leadership Whisperers introduced their unique team to senior managers from a variety of well-known UK organisations. It was a team with a difference as it's members were two very handsome horses who were there to identify individual leadership styles and behaviours.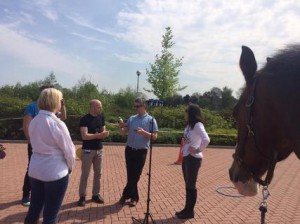 Guests were invited to lead the horses and consider how they used their leadership skills to achieve their objectives.  Participants also took part in other interactive and immersive activities including how to identify hazards that caused a road accident using virtual reality glasses provided by SGIL (Serious Games International Limited). In the Simulation Centre, participants were given a demonstration of how immersive learning, in the form of a simulated Board meeting, followed by feedback can provide relevant and effective results.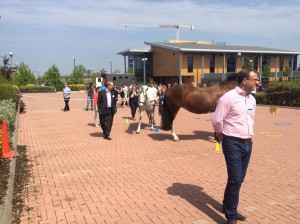 Professor Rosalind Searle, Co-Director of the Centre for Peace, Trust and Social Relations also gave a presentation about trust in the workplace.
Finally, SimVenture were on hand to demonstrate their new web based business simulation tool "Evolution" which follows on from their award winning SimVenture product.
The day was an excellent introduction to experiential learning and gave the participants a good overview of the services and support Coventry University can offer to businesses.
If you would like to find out more and explore how Coventry University could help you to introduce any of these innovative methods of training to your workforce please visit www.coventry.ac.uk/business or contact: