Work is underway on Coventry University's multimillion pound National Transport Design Centre, which is being established to boost design innovation in the sector and bridge a shortfall in creative skills.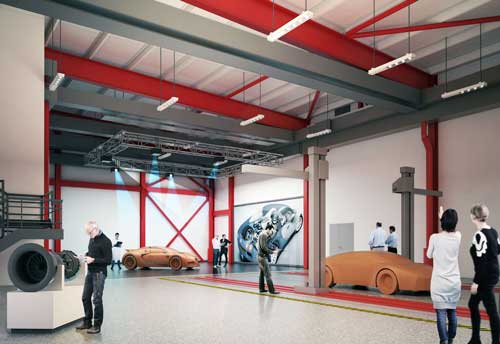 The centre will feature a six metre power wall allowing designers and engineers to explore transport concepts in virtual reality, and will also have projection mapping technology to enable intricate digital designs to be cast onto 3D surfaces.
Students, researchers and transport industry professionals will also be invited to access the latest clay milling facilities for creating physical models of vehicles as part of the design process. An initial £7 million contribution has been made to the new centre by the Coventry and Warwickshire Local Enterprise Partnership (LEP) and the government's multimillion pound Local Growth Deal.
Kier Construction and architects Glancy Nicholls are working together on the project, and it is anticipated the centre will be complete and ready to open its doors to support businesses in the transport sector in 2017.
David Wright, director of strategic initiatives at Coventry University, said: "Britain, and Coventry as a city, is well established as a leader in transport design – whether that's automotive, aerospace, rail or marine – but if the country is to retain, and indeed grow, its competitive position internationally in this field we need to ensure our specialised skills are not fading or, worse still, moving away from the UK. We already know that creative skills like design and modelling will soon be in short supply if an ageing workforce retires without capable graduates and trainees coming through, so it's critical that facilities and education pathways are in place to encourage more young people to join the industry. This new centre aims to be the focal point of transport design in the UK and Europe, attracting students to come to learn, researchers to come to advance knowledge, and companies to come to take advantage of our expertise and technology to innovate and grow their business."