A leading civil engineer and world renowned authority on tunnelling is to receive an honorary degree at Coventry University London's graduation ceremony on Friday, 7 April.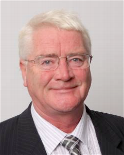 Terry McDonald (left), Managing Director of TM Tunnelling Ltd, will be made an Honorary Doctor of Technology (Hon DTech) in recognition of the contribution he has made to his chosen field.
A Fellow of the Institution of Civil Engineers – at one point he was the youngest ever holder of this accolade – and a Member of the British Tunnelling Society and International Tunnelling Association, the 67 year old who lives near Ongar in Essex graduated from the University of Newcastle-upon-Tyne with a BSc in Civil Engineering in 1971. 
His professional career began soon after at construction giants Balfour Beatty, where his work on a number of high-profile international schemes such as the Cairo Waste Water Project and Victoria Dam in Sri Lanka, saw him rise through the ranks to become director of the company in 1990.
In the late nineties Terry branched out on his own, going on to establish a specialist tunnelling consultancy where he enhanced his already impressive reputation for delivering large-scale infrastructure projects on time and under budget.The London Channel Tunnel Rail Link, the Olympic Cable Tunnel Project, Jubilee Line extension and Thames Tideway Tunnel Project are just some of the many major engineering programmes that he has helped to deliver.
Since 2014, Terry has been sharing his knowledge and experience with staff and students at Coventry University London. He was first invited in to deliver guest lectures on a topic that he was very familiar with – project management – but he has gone on to build close links with the campus, which has a strong business focus.
Terry has subsequently provided specialist input into courses and through his network of professional contacts he has managed to secure a number of internships for students, providing them with invaluable real-world commercial experience.
Terry said: "I'm delighted to be receiving this honorary award from Coventry University London. It's a place I've got to know well over the last few years and I've been really impressed by the set-up there. The focus is very much on giving students a great experience and setting them out on a successful career path.  I'm pleased to be playing my part in this."
Terry McDonald will receive his honorary award from Coventry University London at its student graduation ceremony, which is taking place at the Guildhall London at 11.30am on Friday 7 April 2017.