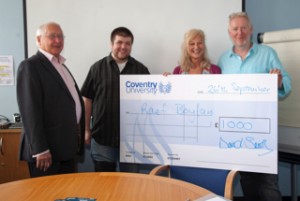 From left to right: David Smith (trustee of the Fred Holland Fund), Raef Boylan (our very first winner), Alyson Morris (Assistant Professor, English and Creative Writing), Tim Kelly (Assistant Professor, Creative Writing, and Course Director for the MA Professional Creative Writing)
Fred Holland Poetry Collection Award 2014-17
Note, this award is no longer running; however, we are still showcasing the winning entries.
See winning entry for 2017 here
See winning entry for 2016 here
See winning entry for 2015 here
See our very first winner for 2014 here
Nando's Competition 2016
We ran a competition with Nando's in 2016.
Nando's Sonnet by Adesina Aanuoluwapo (John) – Year 1 BA English and Creative Writing
A plate of chicken wings please,
and a curry rice on the side.
Supply of drinks that do not cease,
my tongue yearns for a tasty ride.
A princely platter of Caesar salad,
with a tumbler of sparkling sangria.
While I sit writing this tender ballad,
about my affair with a veggie burger.
A bowl of sweet potato mash,
with beautiful thinly-cut chips.
Hunger causes my teeth to gnash,
leaving me with watering lips.
In shock she takes down my order,
asking politely, "Is all of this for you sir?"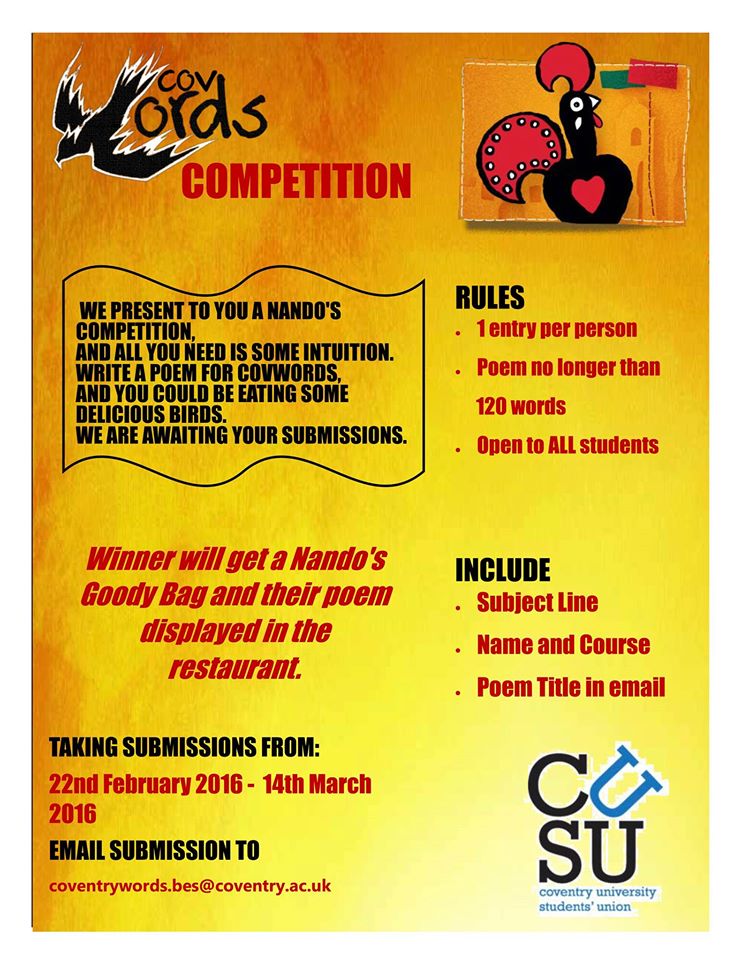 Facebook Competitions
Throughout the year the Coventry Words Facebook page will be hosting competitions on poetry, prose and plays. The competition is open to all Coventry University students. The winner of the competitions will be published on the CovWords website. We'll let you know when we run the next competition.
To enter the competition you need to post your work as a comment on the competition post. Submission must be 500 words, or if the competition requires a bigger word count then send an extract. All submissions will be judged by the Coventry Words web-team, and winners will be notified through the Facebook page or via email (whichever is easier).
Facebook competitions might have additional rules to fit certain themes or genres.