Top 5 innovative roller coasters
Figure yourself as an ultimate thrill seeker? These roller coasters will have you quaking in your boots.
Roller coasters can often be the most thrilling experience a person can have. With their drops, twists and loops, they're also an amazing example of excellent engineering at play. Hold on to your hat because we've come up with a list for our favourite top 5 innovative roller coasters.
Steel Vengeance
Cedar Point, Ohio 
Steel Vengeance is the world's only "hyper hybrid" roller coaster, formerly known as wooden coaster Mean Streak, before a 2-year transformation when it re-opened as the impressive wooden-steel hybrid. Manufacturer's scrapped a conventional tubular pipe track for a reconfigured method, being flat on top, sporting channels on its side which the trains' up-stop wheel fits. With a 62 meter height, 90 degree drop and speeds of 65mph, it broke 10 world records when it opened.
Formula Rossa
Ferrari World, Abu Dhabi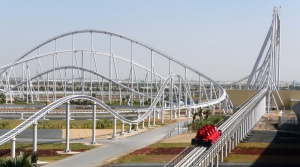 Known as the fastest roller coaster in the world, Formula Rossa was designed to mimic the speed of a Formula One race car. It's 150mph speed is produced by a hydraulic launcher, meaning the coaster takes less than 5 seconds to reach its top momentum. Using a similar system to those used to launch jet planes and with a Winch system of 20,800 horsepower, Formula Rossa flaunts aerodynamics and speed like no other roller coaster that currently exists.
Eejanaika
Fuji-Q Highland, Japan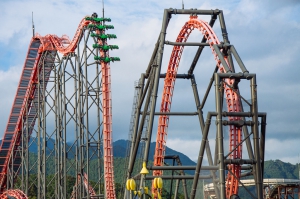 The world's second 4th dimension roller coaster comes in the form of Japan's, Eejanaika. The coaster combines lots of elements to create an intense experience, including a design in which the seats can rotate 360 degrees forward or backwards, by a controlled spin. The unique coaster operates on four separate rails, two for the track, while two control the spin of the seats using a rack and pinion gear mechanism.
Kingda Ka
Six Flags, California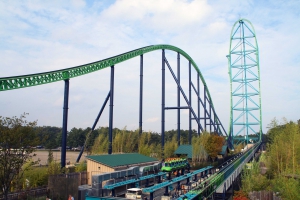 Another coaster that uses a hydraulic launch, this time reaching speeds of 125pmgh in 3.5 seconds. Although Formula Rossa hold the title for world's fastest roller coaster, Kingda Ka currently reins as the highest roller coaster in the world, with a height of 138 meters tall. The hydraulic launch generates enough energy so that the coaster can shoot up the vertical climb in just 10 seconds, allowing gravity to do the rest of the work on the drop down.
Steel Dragon 2000
Nagashimi Spa Land, Japan

Another record breaker on our list, Steel Dragon 2000 is currently the longest roller coaster to be created. It uses a traditional chain lift hill for its 93 metre drop, however because of its length, two chains that switched mid lift hill had to be utilised.
The ride also required far more steel than other roller coasters around the world, in order to protect it from earthquakes. Meaning it's also the second most expensive roller coaster to be made, costing a whopping $52 million.
Don't forget, if you're fascinated by engineering and want to pursue a career in the field, our Electro-Mechanical Engineering BEng (Hons) degree is designed to help you construct the future. Take a look at the course which runs at CU Coventry, CU London and CU Scarborough.
Comments
comments