Discourse intonation: pedagogical insights, Wed Feb 27 [Mahmoud Jeidani, Academic Writing]
The first talk of the Spring Semester will take place next Wednesday, 27 Feb from 16:00-17:00 in GEG32 (the Hillman Lecture Theatre). Our speaker is Mahmoud Jeidani from Centre for Academic Writing and he will be talking about 'Discourse intonation – pedagogical insights'.
The talk summarises research on the teaching of Discourse Intonation (Brazil 1994) in an EFL context between 2008 and 2011. The talk starts by defining and outlining DI assumptions, highlighting learner reported cognitive processes as a gap in the literature on its teaching, before explaining the methodology taken to conduct data collection (fieldnotes, diary entries, and interviews) and analysis (qualitative content analysis). Key findings are then presented, demonstrating that tones and stress are particularly challenging even for advanced learners of English when accounting for their function, while key proves more learnable as it functions at a more conscious level in comparison. The findings are followed by a discussion of their significance as a confirmation of, and challenge to, some of the beliefs held in the literature (e.g. Jenkins 2000). The talk ends with implications for pronunciation teaching and research.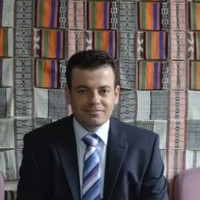 Dr. Mahmoud Jeidani is Academic Writing Tutor at the Centre for Academic Writing, Coventry University