Student Plays Performed at the Shop Front Theatre [Alyson Morris, English and Creative Writing]
Student plays performed at the Shop Front Theatre
For the fifth, consecutive year, Performing Arts collaborated with Humanities and put on a show at the Shop Front Theatre on 15th March. Eight short festival plays, written by English and Joints students, were performed (with script in hand) by acting students, who only had a few hours to rehearse. Once again, the actors delighted the writers, and an audience of special guests, students, family members and tutors.
A Lift to Purgatory by Maria Omena
An angel and a demon are stuck in a faulty lift, and their situation changes each time the lift grinds to a halt between stops. In the side lines, fighting over an immensely powerful remote control, are god and the devil. Things happening in the lift appear to change at each pointing of the remote.
Dinner Girl by Ka Cheuk Ho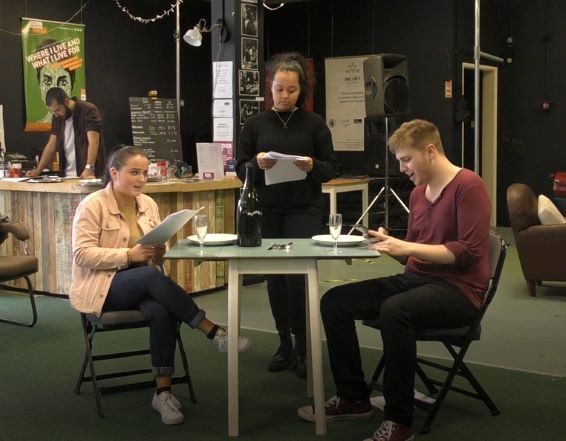 Based on a true story. Rosie and Colton meet through a dating app and this is their first night out. However, things aren't quite as they seem. Why is Rosie insisting on ordering the most expensive items on the menu? Isn't it strange that Rosie appears to know the waiter?
Hapless by Tom Lawlor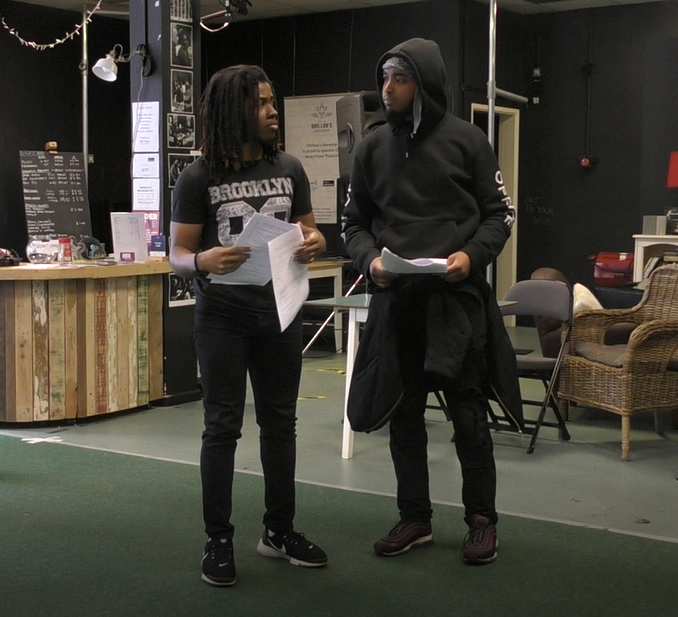 Arriving early for his oncoming duel to the death, Rod sees his opponent is already there. Neither wanting to move for fear of the other laying a trap, they spend their time together 'til sundown, where someone won't leave the scene alive.
I'm not your Carrot! I'm your Cumberland pie! by Connor Bilboe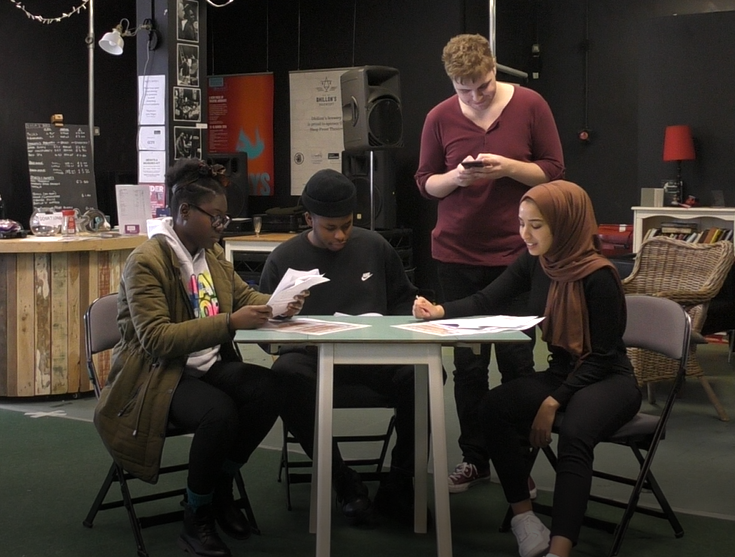 Kara goes to a restaurant with her boyfriend Henry and his mother Carol whose family are devout vegans. Little do they know that Kara is an avid meat eater and, since meeting Henry, has been living a fake vegan lifestyle. When tensions rise, Kara has to face the truth that may threaten her relationship forever.
Killing Queens by Curtis Osborne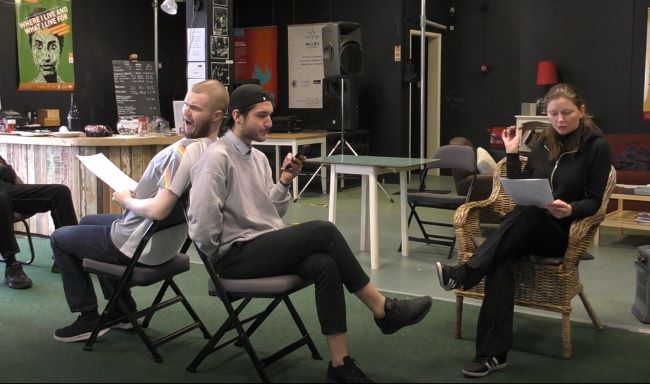 In a dark basement, two drag queens are tied up back to back. They hate each other and are blaming each other for various events in the past. Their captor, also in drag, the jealous Pariah Dice, stands over them. Little do the queens know, that it is Pariah who has caused all that pent up hatred.
"People voted for Brian" by Kaleem Ali
Jeremy Corbyn meets Theresa May to discuss politics during an expensive dinner at a private government location. There are three waiters, each representing an EU country. Brian, a character who represents Brexit, can be heard but not seen by Jeremy and Theresa, and he is causing a bit of trouble.
Time, Love and Whatnot by Gergana Nikolova
A classroom, ten minutes before the start of a lecture. BOY meets GIRL and they finally sit together after weeks of fancying each other. However, BOY has other ideas that might not meet GIRL's notion of what makes a good relationship.
Who really wins? by Sharina Smith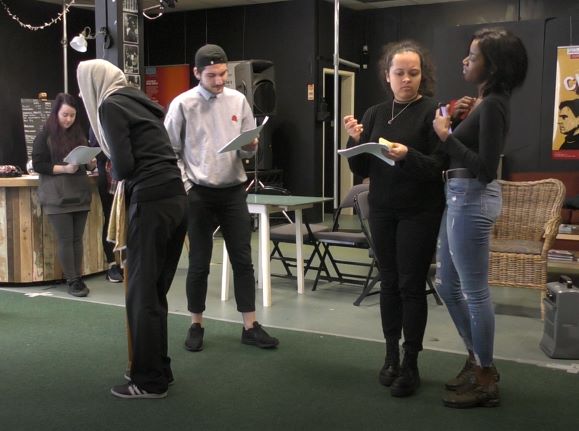 Nichola's actions cause arguments between two other characters in the play: Nichola's head and Nichola's heart. But who will Nichola turn to in the end – her head or her heart?