BA English Language and TEFL: Festive Fun 2020
Written by Jessica Bryan, 3rd year rep for BA English Language and TEFL
As the year draws to a close, it is common and encouraged to spread a little festive cheer. Whether a thank you to the postie through some chocolates, sending cards out to family and friends or even the typical Christmas quiz that no one manages to escape. 2020 has been different, to put it lightly. The concept of a festive feast with colleagues and friends, or a boozy christmas pub quiz with your flatmates is squashed with the pressure of containing the spread of the infamous pandemic while also respecting the tier system to protect those more at risk.
If you thought that COVID-19 would become the new Grinch and steal Christmas from the world then you clearly never watched or read until the end. While there may be a new normal for a while, the internet is a marvelous thing and Zoom means that you can still host a range of festive activities from quizzes to games in the comfort of your own home.
This is exactly what Zoe Gazeley-Eke, the course director of BA English Language and TEFL had organised for her students and staff to try and bring some festive cheer to a difficult semester. Zoe recruited the third year rep, Jessica Bryan (me), to make a Christmas quiz and lecturer Victor Berthelsen to come up with a festive game of 'Name The Tune' while Zoe made a festive bingo with the use of Padlet.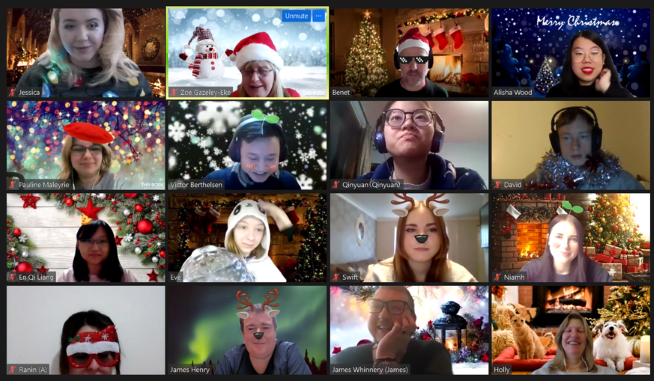 The activities were a huge success; my quiz was a mix of difficult and easy questions which stumped even the trivia master Benet Vincent, with a lot of the students outsmarting the lecturers with the power of general Christmas knowledge. Victor's name the tune game was a challenge that caused James Henry and Holly Vass to come up with some creative choices whilst I managed to get most right thanks to being pelted with the Christmas tunes at my part time retail job.
The bingo was a lovely way to bring together friends and strangers into a wonderfully competitive atmosphere with nothing to rely on but luck and attention to detail. Like monopoly but considerably less drama and far more lighthearted goodness. Zoe wrapped the call up with a type of 'silent karaoke' where all members of the call could hear the Christmas classic of 'All I Want for Christmas is You' by the one and only Mariah Carey, but everyone was muted! We could all see each other singing along but thankfully no one heard anyone really going for those high notes. It really brought together the community festive feel that was close to being lost due to the COVID-19 regulations, and I truly wish each and everyone of you a very merry festive season.
You all deserve a break, stay safe.
x