A Supportive And Engaging Environment For Enhancing Employability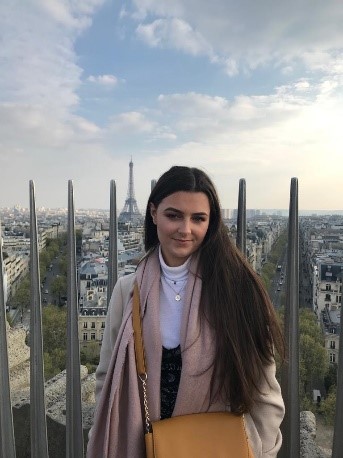 Abigail Archer graduated in 2020 from the the BA Hons French and Business course in the School of Humanities. This is what she had to say about her course:
"During my time at Coventry I was able to improve my French skills through various modules and assessments that aimed to push me to achieve my best, in skills that are strongly desired by most employers, from presentations to report writing and analysis. My year abroad helped me a great deal to gain valuable work experience in a French company, but also to enhance my global awareness.
A lot of this would not have been possible if I had not had the support from my module leaders and the amazing careers team. As many people know, final year can be a daunting time, but with the knowledge and assistance of the staff at Coventry, I was able to manage my workload whilst applying for graduate schemes, ready for life after university. I am pleased to say that I have since received an offer from a graduate employer, who took a strong interest in my language skills and the soft skills such as communication, that I have developed during my time at Coventry.
I would definitely recommend the use of the Coventry employability and careers team throughout the university experience for useful resources and advice on graduate schemes, but also for internships and placements prior to this to gain a competitive edge in the graduate job market.
To push myself further, I decided to sign up to the Global Leaders Programme, which is offered by the Centre for Global Engagement in the Student Centre. There are various activities that are offered to students to take part in, which will eventually lead to the completion of the program upon graduation. A range of workshops to improve your soft skills, as well as speaker events, industry visits and international trips are all available at little or no cost for members. This programme includes the Linguae Mundi language classes which can really stand out on your CV. This was definitely an insightful programme that complemented the other experience I have gained here at Coventry.
Overall, I am extremely grateful to have been offered an array of opportunities at Coventry University that have all helped me to find a graduate scheme that will open doors for me in the future. The School of Humanities has always been extremely supportive and attentive to each individual student to make sure that they are doing everything they can to facilitate your needs and goals during your degree. It's an experience I will not forget!"