Autumn Term Research Seminar Series 2021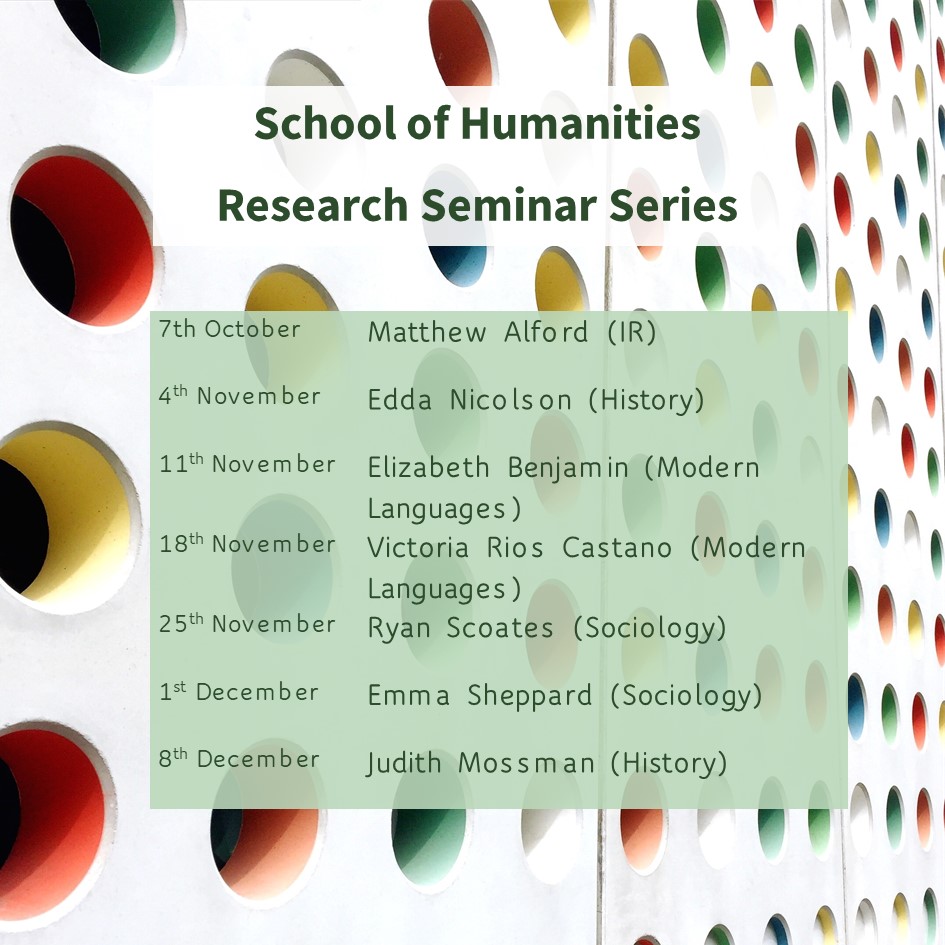 Please email Chris Smith on ac5356@coventry.ac.uk for Zoom/location details!
Matthew Alford – title TBC – 7th October 2021
Matthew is an expert on the Hollywood entertainment industry and its links US Foreign Policy, the military infrastructure and military propaganda in the US. He has published widely on this subject area including a co-authored monograph, with Tom Secker, entitled National Security Cinema (2017).
Edda Nicolson – title TBC – 4th November 2021
Edda Nicolson, a PhD candidate at Wolverhampton, who is conducting research on the General Federation of Trade Unions during the early 20th century.
Elizabeth Benjamin – Mediating Memory through the Monuments of Paris – 11th November 2021
Elizabeth will talk about a section of her current project, Mediating Memory through the Monuments of Paris. The research explores the development of the memoryscape of the capital – and its problematic dominance over the Francophone world – through a lens of a postcolonial critique of cultural memory. The seminar will situate existing problems of memorial structures and policies within the key crises and resulting urban planning projects of the 19th-21st century.'
Victoria Rios Castano – Thomas Gage's interpretation of the conquest of Mexico in The English-American: His Travail by Sea and Land or A New Survey of the West Indies (1648) – 18th November 2021
Victoria will speak about Thomas Gage's support for Oliver Cromwell's "Western Design" (1654-1655). She will provide a textual analysis of several excerpts extracted from his travel book (The English-American), showcasing the manner in which Gage describes Hernán Cortés's conquest of Mexico (1521) in an attempt to encourage the invasion and occupation of Spanish colonial Mexico by an English army.
Ryan Scoats – Exploring Gay Men's Threesomes: Normalization, Concerns, and Sexual Opportunities – 25th November 2021
Although there is abundant research regarding group sex between men, much of the current literature constructs group sex as homogenous and overlooks the nuance of how and why men engage in particular sexual behaviors. Accordingly, this research expands our understanding of group sex by focusing on a specific type of sex: the threesome. The results demonstrate how perspectives on threesomes may develop over time; at first appearing exciting before becoming relatively normalized and indistinct from dyadic sex. Encounters and exposure are fostered through the sexual opportunities available, in particular, geo-social networking apps. Despite their normalization, threesomes are not necessarily viewed as risk free. Thus, this research offers insight and understanding into how gay men engage in group sex and the contextual factors which make it possible.
Emma Sheppard – Cripping Queer Futures – 1st December 2021
This paper explores queer futures through a productive – and perhaps unproductive – conversation between crip time (Kafer, 2013; Sheppard, 2020; St. Pierre, 2015), queer futures, and xenofeminism (Cuboniks, 2018; Hester, 2018; Jones, 2019). In particular, the paper seeks to make space for crip joy in queer futures. Theorising and research around crip time has centred concepts of temporality, pace, and speed within disability: "disabled bodyminds are those who fail to perform heteronormative, flexible, independent, proper bodyliness, at the right time and in the right amount of time" (Sheppard, 2020). Disabled bodyminds are thus too slow, too fast, too uncontrolled, too reliant, too different; too much and not enough. Conceptually, crip time takes many of its cues from queer time, particularly in exploring how the heteronormative (heterotopic, perhaps) figure of the Child relies on ableist notions of a non-disabled future (Kafer, 2013). However, within crip time, there is more space – more time – for crip joy; joy in political practices and crip-queer practices of relating, loving, and joining. In bringing xenofeminism and crip-queer time into conversation, this paper asks if there is room for joyful crips in a techno-utopian future. However, whilst this conversation may be generative, it also celebrates the value of being unproductive – of disagreement and untidy conclusions.
Judith Mossman – title tbc – 8th December 2021
On how Greek writers of the imperial period (2/3rd centuries AD) describe early Greek history (6th century BC).