A virtual event supported by the Centre for Business in Society and Academic Publishing International.
The European Conference on Knowledge Management (ECKM) is one of the key annual events for the international community of scholars and practitioners working on data, information and knowledge management. A regular contributor to ECKM over the last decade, Prof Alexeis Garcia-Perez was successful in his bid to attract the 21st edition of the conference to Coventry University in 2020.
The conference took place on 3-4 December 2020. Initially planned as an opportunity to discuss the blurring boundaries between digital and physical domains of our lives and work, the conference was held online for the first time in its history, due to the current COVID-19 pandemic.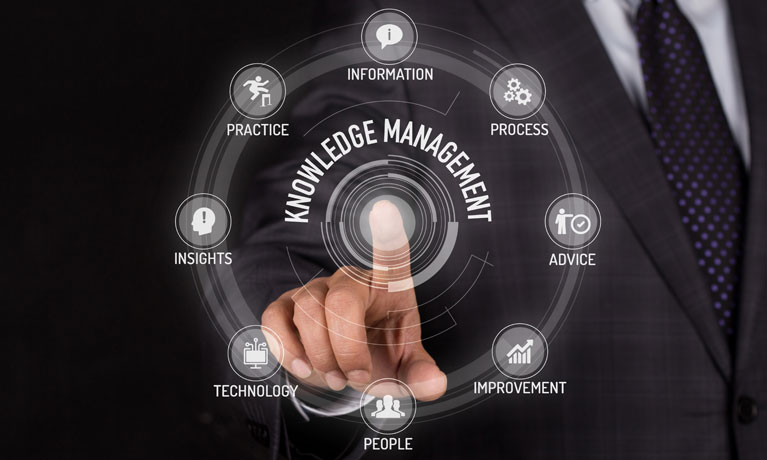 ECKM is organised by Academic Conferences and Publishing International. On behalf of the Faculty Research Centre for Business in Society, Professors Garcia-Perez and Lyndon Simkin co-chaired the conference and all satellite events that took place during the week. Colleagues from CBiS and from the School of Strategy and Leadership of the Faculty of Business and Law played a major role in all these events.
The week started with a meeting of the International Association for Knowledge Management, which Prof Garcia-Perez helped coordinating from his role in the executive committee of the organisation. Over 50 participants discussed the impact the Association is having on knowledge management learning, research and practice.
A Doctoral Colloquium and PhD Research Workshop were held on Wednesday morning. This pre-conference event was attended by over 50 postgraduate researchers from across the world. Dr Esin Yoruk and Dr Rebwar Gharib, from the School of Strategy and Leadership (SSL), delivered presentations on the subjects of qualitative and quantitative research, respectively. Their presentations were well received by the PhD research community, who engaged in a discussion of the challenges of doing PhD research on data, information and knowledge management. Prof Garcia-Perez, Dr Yoruk and Dr Gharib then provided feedback to postgraduate researchers who presented their PhD research. A prize was awarded to the best presentation from a postgraduate researcher.
A pre-conference Workshop was held which focused on the impact of Artificial Intelligence in businesses and society. Dr Duncan Greaves (Coventry University Scarborough) and Dr Sara Degli Esposti (Spanish National Research Council & CBiS Honorary Visiting Fellow) presented their views on the potential impact of algorithmic decision making on the interaction between society and businesses. Issues such as trust, privacy and data-driven decision-making were discussed by more than 70 participants who learned about the evolution of cashless payment systems and its implications for society.
The conference opened on Thursday morning with a keynote address on the role of knowledge in the current socio-economic environment. Prof Donald Hislop (Business School, University of Aberdeen), Constantin Bratianu (Academy of Economic Studies, Romania) and Prof Klaus North (Wiesbaden Business School, Germany) were keynote speakers throughout the conference, delivering a comprehensive overview of the challenges and opportunities of knowledge-based strategies in the 21st century.
On Thursday afternoon, David Gurteen chaired a very successful Knowledge Café where over 40 participants discussed the challenges of collaborations and leadership in an increasingly complex world.
Over 200 participants from across the world engaged in a debate on data, information and knowledge management research over the course of the two days. Sessions on a wide range of subjects (from e-health to entrepreneurship to sustainability) were chaired throughout the conference by colleagues from CBiS and SSL including Dr Claire Brewis, Dr Anitha Chinnaswamy, Dr Vahid Jafari-Sadeghi, Dr Evronia Azer, Dr Elizabete Cardoso, Dr Pattanapong Tiwasing and Dr Macarena Beltran.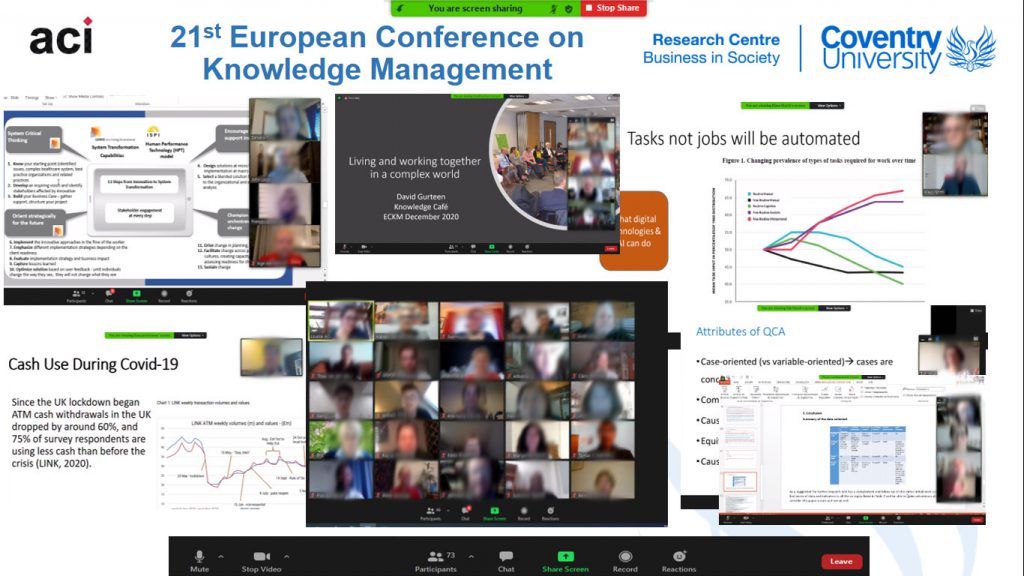 In the absence of the usual Conference Dinner, participants engaged in a well-organised networking event on Thursday evening, which showed that even in the digital environment likeminded colleagues can establish new networks and working relationships.
The 21st edition of the European Conference on Knowledge Management has been an opportunity for the data, information and knowledge management research and practice communities to engage in a discussion of the primary business challenge of the 21st century: transitioning from an industrial economy to a knowledge economy. The collaboration between Coventry University colleagues and with the wider community has demonstrated that we can improve our understanding of the subject and our impact on businesses and societies, even with the restrictions imposed by a global pandemic.
As the conference ended on Friday evening, the community agreed to join again at Coventry University in September 2021 for the 22nd edition of ECKM.
---
Some of the feedback received from participants includes:
The conference still had the friendly and welcoming ECKM vibe even though it was virtual. Well done Alexeis Garcia-Perez and Academic Conferences and Publishing International!

Prof John Edwards, Aston Business School, UK.
Alexeis – great leadership in challenging times, well done!

Prof Sandra Moffett, Head of Department at Ulster University Business School.
Alexeis, great job hosting the conference! I'm looking forward to next year's.

Johel Brown Grant, US Department of State, Washington DC, USA.
This was so uplifting it crossed my mind you should do it, in this date, every year.

Prof Eduardo Tome, Universidade Europeia, Lisbon, Portugal.
Comments
comments