Kem Ley's funeral. EPA/Mak Remissa
Guest post by Charlie Rumsby, Centre for Trust, Peace & Social Relations
One of Cambodia's most famous political commentators, Kem Ley, was recently shot dead in broad daylight in Phnom Penh, the country's capital city. Moments after his brutal murder, a man calling himself Choub Samlab (in English, "meet to kill") claimed responsibility, saying he was motivated by an unpaid debt of US$3,000.
But both opposition leader Sam Rainsy and the international press have voiced suspicion that Ley was assassinated because he posed a political threat to Cambodia's ruling party, Hun Sen's Cambodian People's Party (CPP). The shooting bears all the hallmarks of control and intimidation, which have persisted since the military takeover of 1997. And while the public narrative of progress, modernity and multiplicity is kept up, Cambodia nonetheless remains an authoritarian state that's cultivated a democratic image.
International funders and partners have tried to help the Cambodian government mend its old ways of brutal force and rigid hierarchy only to see their hopes marred by the repeated killings of political, human rightsand labour activists. The suppression of dissidents over the last decade has been met with a deafening silence.
But all is not lost. Despite this ongoing abuse, activists such as Ley have been optimistic about Cambodia's future, heartened by the way the internet has renewed people's political confidence. As the country has opened its borders, globalisation and technological advances have helped inform a new generation. Younger Cambodians are more educated and politically aware than their older countrymen, and can communicate with each other easily. Having access to news which challenges the state-controlled mainstream media is opening up the political space to different ideas.
This trend seems to correlate with a decline in the CPP's popularity. The party only secured a marginal majority in the 2013 elections, after which the opposition boycotted the opening of parliament, claiming the government had meddled with the result.
At that time, thousands of Cambodians were emboldened, if only briefly, to protest both about the election result and rising inequality. Cambodians' anger at the system is like a simmering kettle, periodically reaching boiling point only for the heat to be turned down again. And since the last elections, crackdowns on protests seem to have curbed the people's inclination to take to the streets.
Instead, online forums have acted as an alternative space for many to covertly express their views. Along with other platforms such as radio, it was online that Kem Ley's voice became the voice of many Cambodians. And now his murder, in broad daylight, seems to have inadvertently galvanised Cambodians once again.
A moment marked
On the morning of the shooting, I was at a party with some Cambodian friends – tuktuk drivers, aid workers, university graduates, young and old. The mood of the party turned sombre as everyone heard the news. Soon we were all glued to our phones reading the latest commentary on the murder. As thousands gathered at the scene to pay their respects, many left the party early to join them.
The following evening I spoke to a friend who had attended Ley's funeral, who described the sense of unity among the hundreds of people who came to pay their respects. It was profoundly moving to hear the detailed description of the crowds gathered in silence, writing their names in a book to record their solidarity.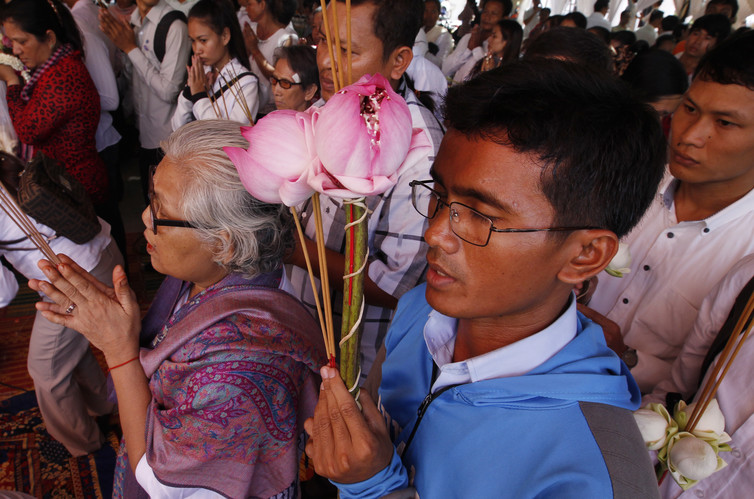 Praying at Ley's funeral. EPA/Mak Remissa
By simply being there, they acknowledged both what's right and wrong with Cambodia today. And by mourning the loss of a voice for reason and justice, they defied the power against which Ley spoke out.
Elections are now set for 2018, and they present Cambodians with both risks and opportunities. Ley's death could be remembered as the moment a new vision for the country came into view – a vision that rejects corruption, fear and intimidation. It is also a moment for Cambodia's political leaders to respect the international conventions that have been signed and to ensure a fair and transparent election.
It's hard to know how Ley's murder will play out beyond Phnom Penh. But judging by the reaction at the scene of the death itself, the public's refusal of police demands to remove his body from public view, and the thousands of people gathered mourning and calling for change, perhaps Ley's martyrdom has planted a new seed for democracy.
Originally written for 'the Conversation'.
Comments
comments