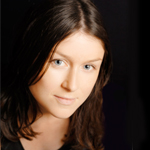 Guest post by Emma Meehan, C-DaRE research assistant.
Motion Bank is a research project that is involved in the creation of digital scores with guest choreographers which are then shared online. It is led by Scott deLahunta (Senior Research Fellow, Coventry University), with partners from Europe, Australia and North America. Motion Bank is funded by the German Federal Cultural Foundation, the Hessische Ministerium für Wissenschaft und Kunst, the kulturfonds frankfurtrheinmain and Altana Kultur Stiftung.
The Motion Bank Education Work Group met at the Centre for Dance Research (C-DARE), Coventry University, from the 21-23 March 2013. The group meet to examine the educational aspects of the project, including the value of using the materials produced by the project in dance pedagogy. There are representatives working with different target groups including primary, secondary, vocational dance training, undergraduate and postgraduate level students. There are also members of the group working in professional dance, dance scholarship (history and theory) and 'training the trainers' (dance pedagogy), as well as those working directly with choreographers and their outreach programmes.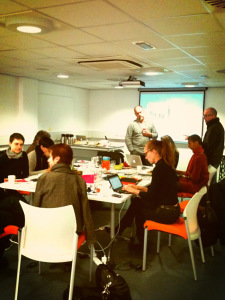 Over the three days, group members including Scott deLahunta, Bertha Bermúdez, Claudia Jeschke, John Taylor, Sarah Whatley,
Jenny Coogan, Jasmine Wilson, Ingo Diehl, Britta Wirthmüller, Emma Meehan and David Bennett reported on their activities and considered how to invite the public to access the educational potential of the resources.
The question of 'authorship', an issue in digital culture generally, was explored in relation to the Motion Bank project as choreographic material can now be accessed, reproduced and shared online. As a result, the idea of 'referencing' of practical material was discussed, suggesting that scholars are used to citation but perhaps this is an emerging area in pedagogy through the quotation of choreographic practice.
The use of technology by the group in innovative ways was presented, with case studies where smart phone applications were used by students to track self-care of the body or the use of blogging to document students' developing practice. Helping students to make choices about what to make public and private through the use of technology in the classroom was an important issue, with students who were blogging learning about how to decide what to share online about their work.
Extracting choreographic principles was proposed as an avenue for developing the Motion Bank materials, with two group members collaborating on producing a set of cards based on the principles that could be used in the primary school curriculum. The potential of producing a 'lexicon' of principles for emerging choreographers was also put forward, in order to record preferences and approaches to share with dancers.
The group also discussed future plans for the project. A major Motion Bank public event will take place in Frankfurt, Germany from the 28th November-1st December 2013, to share the outcomes of the project from the past four years.
For more information about Motion Bank, visit the website. 
Comments
comments