Four MSC Manufacturing Engineering  (updated for 2015 to MSc Production Engineering and Operations Management) students have been given a unique taste of what the UK's first 'Faculty on the Factory Floor' will be like.
Soye Afiesimama, Janarthanan Ashokan, Vinodh Viswanathan and Amer Hussain volunteered to experience learning in a 'live' manufacturing environment that will form the model for the Institute of Advanced Manufacturing and Engineering's (AME) approach to delivering industry ready graduates.
The students spent 12 weeks working as important members of two project teams at Unipart Eberspächer Exhaust Systems (UEES), investigating and developing solutions to shopfloor problems by applying what they have studied in the classroom on real-world issues.
They outlined proposals and conducted analysis that will improve manufacturing operations and quality at UEES for years to come, whilst also using their experience and the work completed to form the basis of their Masters dissertations.
It provided an interesting insight into how AME will work when it launches in November 2014 to its first 30 undergraduates and postgraduates.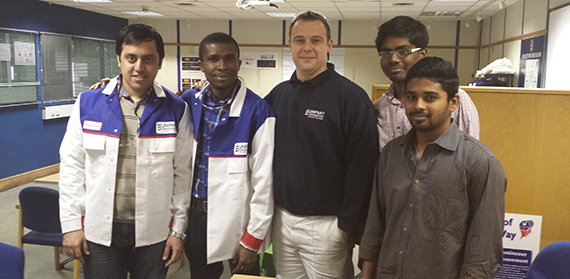 L-R: Amer Hussain, Soye Afiesimama, Mick Timms, Janarthanan Ashokan, Vinodh Viswanathan
Their studies (so far) …
The semester from late January until May consists of four core modules – Quality and Metrology, Lean Operations, Production Planning and Control and Manufacturing Simulation.
These look at examining production organisation, process layout, the importance of effective and reliable measurements, quality (management, process control and problem solving), as well as planning and how discrete event simulation can improve decisions around manufacturing and production problems.
What did you do on the project and what was the outcome?
Soye: "I worked on a quality project – on scrap reduction. In the first week we tried to understand the entire system, then we collected data. We did initial analysis and focused on a few vital scrap areas.
We used failure analysis techniques, Measles and Ishikawa diagrams to identify the root cause. Then we performed test trials to verify our analysis and were able to prove exactly what the problem was.
Vinodh: "I worked on the layout of a fuel filler line. We recognised that the flow of product could be improved so developed a new layout to give better flow and this will be implemented by UEES in September."
Did this project help your studies? 
Janarthanan: "It has certainly helped with my academic studies. I applied the knowledge I gained during the Lean Operations module to manufacturing issues on the shopfloor…there's no better way of learning then seeing how the theory works in practice."
Soye: "The theories I learned from the Manufacturing Quality and Lean modules have contributed in so many areas of this industrial project."
Were there any other benefits from participating?
Soye: "I wanted to compare my experience of industry in India with that of the UK, which has been very useful. I also wanted to apply the theories I am learning my Masters in the context of real-world industry practices."                                                                    
Janarthanan: "It was very interesting. This is the first time I have worked with different cultures and have experienced so many different things by working with others. It will be very useful for my future career."
Vinodh: "The faculty members from the Lean Operations module helped us a lot. Every week we presented our progress, so that has given me the chance to develop softer skills, such as making presentations."
Would you recommend this to other students? 
Soye: "Yes. It will enhance their technical skills and will allow them to see the application of what they are learning in practice. I feel it will also help to improve their softer skills as you are working in teams and you have to learn how to manage team members. I would recommend any student to take part."
Janarthanan: "Manufacturing is competitive and to be unique you need to do extra work. This project has allowed me to do just that and I'm thankful to Coventry University for choosing me as one of the four volunteers."
Vinodh: "That is my first experience in industry and I have gained many new skills. Unipart is a global manufacturing company and a great name to put on my CV. I'm sure it will lead to more opportunities."
Background
This opportunity has been made possible through the Institute for Advanced Manufacturing and Engineering (AME), a £32M+ collaboration between Unipart Manufacturing and Coventry University, supported by the Higher Education Funding Council for England's Catalyst Fund.
The future
The course will form an integral part of the AME approach for delivering industry ready graduates.
We are looking for engaged, enthusiastic and capable students to be part of the UK's first 'Faculty on the Factory Floor' and who want to accelerate their learning and career opportunities by underpinning technical knowledge with 'live manufacturing' experience.
Could that student be you?
For further details on the course, please visit the Coventry University website (http://www.coventry.ac.uk) and search for 'MSc Manufacturing Engineering', or contact the course director (Dr Christopher Smith – Christopher.Smith@coventry.ac.uk)
Comments
comments