Reuters/Soe Zeya Tun
Guest post by Professor Neil Renwick
The results are not yet official and unexpectedly slow and the rain may have fallen on opposition supporters in Yangon. But is already clear from results announced that the opposition NLD Party, led by Aung San Suu Kyi is sweeping all before it with a resounding victory and is expected to gain the votes of over 70% of the 30 million eligible voters in Sunday's poll.
According to Neil Renwick, Professor of Global Security at Coventry University who researches and publishes on Myanmar's politics and development: "This is a truly historic moment in Myanmar's history. Obviously, this is a major win for the National League for Democracy and its millions of supporters at home and overseas. But, more than anything else, it is a personal victory for the long arduous road to democracy and reform taken by Aung San Suu Kyi. It is also a vindication of her controversial strategy of working within t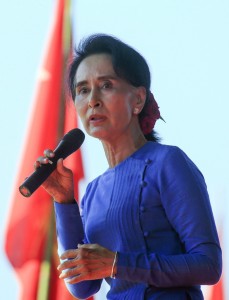 he existing military-backed Constitution and political structure."
Professor Renwick explained that, despite the expected results, "…the story does not end there. There are critical questions about the millions left out of the election process at home and abroad? Will the military accept the result. It reserves 25% of Parliamentary seats for itself. The ruling Party needs to win fewer seats than the NLD to take power as it has the military's support) Who will be President? Under the present Constitution Aung San Suu Kyi is barred from taking the Presidency as she has a "foreign" family.
"In my view, the results will stand. Anything is possible, we are in relatively unchartered territory, but the military are signalling today that they will accept the result. Irrespective of the result, the NLD will still have to work with military-backed officials and parliamentary delegates In terms of the Presidency itself, this is not Aung San Suu Kyi's immediate priority and many in the military are bitterly opposed to her ever becoming president. As Aung San Suu Kyi has stated again today, it is about achieving democracy itself for Myanmar that is the priority, not her presidential incumbency." EPA/Lynn Bo Bo
"The election victory is, naturally, critical. But it is only the start. The twin tracks of the reform and peace processes are massive issues for a country still mired in poverty and conflict. There has been significant progress. But many civil society groups have expressed growing concern that reforms are stalling and the peace process is in trouble. Victory is one thing, what to do with it once you've got it is the really big challenge."
Contact for Professor Neil Renwick for more at n.renwick@coventry.ac.uk
Comments
comments