Research shows that both the number of people facing imprisonment and the chances of re-offending are on the rise, an ongoing trend which raises questions around current punitive and rehabilitative efforts. Overcrowding still remains a persistent issue with the prison population rising to 86,300 in July 2015; and nearly half (46%) of those released face reconviction within one year of release . This number increases further for those facing shorter sentences (12 months or less) to 58% . Reoffending also poses vast societal costs of around £7-£10 billion a year.
Against this backdrop, the interdisciplinary team of researchers at Coventry University are leading research and working with a number of voluntary sector organisations to evaluate interventions targeted at offenders in the prison and community setting.
The need for introducing new ways of working to reduce reoffending is of focus for Michael Gove, the current Justice Secretary. In his recent visit to the U.S. to explore rehabilitative justice, he acknowledges there is a need to consider new and innovative ways of tackling reoffending, which considers the ways in which offenders are being and can be supported whilst in prison and on release.
There is no doubt that tackling reoffending is challenging, with difficulties often reflecting the diversity of those incarcerated, some of whom often have complex and multiple needs. Research shows that nearly half of men in prison were excluded from school (resulting in high prisoner illiteracy rates), over 70% of prisoners have a mental health need, and nearly 65% have alcohol or drug related problems. This is in conjunction with the overrepresentation of Black, Asian and Minority Ethnic (BAME) populations and an increasing female prison population .
This growing and complex prison population raises a number of policy challenges. A recent policy direction is focused on the need to expand the prison state; there are currently 142 prisons in England and Wales with plans underway to build a new prison in Wrexham – the largest to date. This is alongside other recent developments, under the Coalition government (and previous Justice Secretary Chris Grayling), in which eight prions in total now solely house offenders who have committed a sexual offence.
Another key change is how offenders are managed in England and Wales, outlined in 'Transforming Rehabilitation: A strategy for Reform' which involves outsourcing a large proportion of the probation service. The creation of Community Rehabilitation Companies (CRC) (private sector) to manage low – medium offenders are part of the reforms, as is the creation of a new public sector National Probation Service (NPS) to manage high risk offenders, alongside a focus on payment by results for reductions in reoffending, and on resettlement.
Whilst it is too early to know the extent to which such changes will contribute to reducing reoffending rates, it is clear is that the current policy direction rests on developing partnership working, in particular a growing role for service delivery by the Voluntary and Community Sector (VCS / third sector). VCS organisations are perceived as being able to offer a more innovative, holistic and person-centred approach to working with offenders and considered as more responsive to meeting the challenges a lot of offenders face before, during, and after life in prison. As such, the VCS is key in tackling issues such as; unemployment, homelessness, substance misuse, poor health and weak social support networks. Increasingly VCS organisations are identified as playing a central role in addressing offenders' resettlement needs and their transition from prison back into their local communities.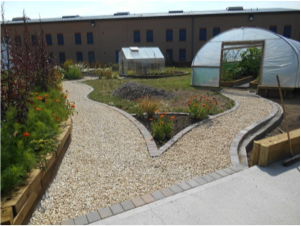 The research team at Coventry University are currently working in partnership with a number of VCS organisations to capture the various ways in which their work supports offenders and has the potential reduce reoffending. Key findings to date has shown some positive outcomes for offenders alongside other key stakeholders such as the prison service, families and communities, and draws attention to the importance of establishing effective partnership working. One example is the Master Gardener programme at HMP Rye Hill – a successful partnership model involving G4S, the charity Garden Organic, and the Drug and Alcohol Recovery Team (DART) (Public Health Northamptonshire). The evaluation report highlights a range of positive outcomes for the offenders involved with substance misusing problems and also identifies a number of key factors essential for successful interventions. More generally, it should be appreciated that a longitudinal approach to research is better able to track offenders over a longer period of time.
There is much potential for interventions providing holistic, wrap around support to work positively with offenders who are willing and ready to engage. However, there are also a number of challenges encountered by organisations in trying to achieve this. Whilst many questions remain unanswered, placing offenders' journeys at the heart of research is needed to take rehabilitative justice seriously.
• Read more about the Master Gardener programme at HMP Rye Hill here
• Read the Master Gardener evaluation report here
• Find out more about other research projects by Dr Geraldine Brown (CCSJ), Elizabeth Bos (CBiS), Dr Geraldine Brady (CCSJ) here.
Comments
comments