fotoearl/Shutterstock
It's not the plot of the next Star Wars spin-off movie but the real-life story of Coventry University's professor of sustainable transport design Professor John Jostins.
Having just graduated, Prof. Jostins, who now designs and builds hydrogen fuel cell cars through a University spin-out firm Microcab, was invited to join a small team of designers and engineers at the White Horse Toy Company to work on a more sophisticated version of the lovable Star Wars droid R2D2 for the second and third parts of George Lucas' epic original trilogy – The Empire Strikes Back (1980) and Return of the Jedi (1983).
A long time ago, in a town not so far away
36 years ago, in early 1979, Jostins arrived on his first day at the company's workshop in Crawley, Oxfordshire unaware be was about to work on something that would sell millions of toys worldwide and still be appearing in movies more than 30 years later.
Having graduated from Lanchester Polytechnic with a specialism in interactive electronics in 1978, Jostins set to work on a cultural icon and one of only two characters to appear in all seven Star Wars films to date (including 2015's The Force Awakens), the other being his moody companion C3PO. The original Star Wars movie – now titled A New Hope – had been released the year previously and despite many issues during it's production and a cast of unknown actors, it became a worldwide phenomenon and spawned what is now known as one of the greatest film franchises in history.
Professor Jostins tells many great stories of his time working on everybody's favourite droid.
"Kenny Baker (the actor inside R2D2) actually came to the workshop in Crawley for a fitting. I remember he arrived in a Volvo estate with modified hand controls – it was one of the biggest cars I'd ever seen at the time! It was me who lifted him into the robot for the fitting, after which we made a raft of modifications and adjustments to accommodate him." 

"We were really making it up as we went along. While Kenny (Baker) was there, we had to dash to the Woolworths in Witney to get a pair of children's wellies to fix into R2D2's feet. Kenny's own feet went part-way into R2D2's so that he could rock it. And he didn't actually sit in it – we installed a modified child's car seat at an angle, so he sort of semi-stood. He operated everything from inside, responding to the other actors, turning the head, flashing the lights, doing the arms and getting excited. We had to fix some towel rails inside for him to hold on to – they were also from Woolies!"

"Then one day a helicopter landed in the field outside our workshop, and it was George Lucas himself coming to inspect our work. That was a pretty memorable day! We were told back then that there were 11 Star Wars films written and that we should expect more work, but of course it was over 15 years until the next movie."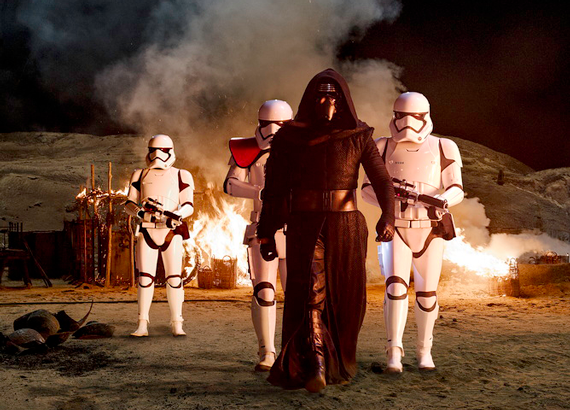 Star Wars Episode VII: The Force Awakens. © Lucasfilm
On the new film, Professor Jostins said;
"I'm definitely going to go and watch the new Star Wars film with my son. He once asked me when he was about four or five years old 'Did you make R2-D2 for the Star Wars films, Dad?' and I said 'Yes I did' and he replied 'Well how did you get it up there?' That's the power of the movies for you!"
Professor Jostins continued to work on special effects for both the big and small screens for a number of years – including for Superman II and Doctor Who (for which he built the almost as iconic Cybermen) – before moving into the motorsport industry.
Click here to see Professor Jostins' appearance on BBC Midlands Today.
Comments
comments