Guest post by Alessandro Merendino
Despite the Greek crisis and the dreadful recession in Europe, the mega yachts sector remains as one of the most flourishing markets in the economy; largely due its multimillionaire customers(!). These multimillionaire customers have been increasing in number and in wealth despite the financial crisis. Greek entrepreneur Antonios Fiorakis has taken advantage of this by setting up a yacht rental start-up venture. He established his business based on the 'sharing economy'; an online platform connecting yacht owners and seekers of vessel charting. Generally, the sharing economy refers to the possibility of sharing property, resources, time and skills with people around the world across online platforms (Wosskow, 2014).
This Greek entrepreneurship idea on mega yachts has led to interesting reflections.
Firstly, the financial crisis can also be seen as an opportunity! In fact, entrepreneurs, new graduates and job seekers are now forced to think of innovative ways to invest money and generate profits. However, many business areas are still unexplored. The challenge now is to shed light on these and start new adventures and businesses, similar to Mr Fiorakis' business model. In doing so it is important to request the support of universities (as well as financial partners) as they will be able to provide research insights, consultation and worker knowledge that can lead to business success.
Secondly, technology and globalization (international economic integration) play a pivotal role in the economy and I believe they present an opportunity, as supposed to a constraint, for companies. Firms are able to easily assess different markets where, for instance, the cost of labour and materials is cost effective or where new business opportunities arise. Mr Fiorakis, states that he will also extend his business to other countries where there is a strong likelihood of new customers. Globalization has expanded and promoted the exchange of goods, services and ideas over vast distances. Technology is considered as one of the key drivers in creating this worldwide integration. Indeed, technology and globalization can (and have) created new possibilities for businesses across the world, as Mr Fiorakis' experience has shown.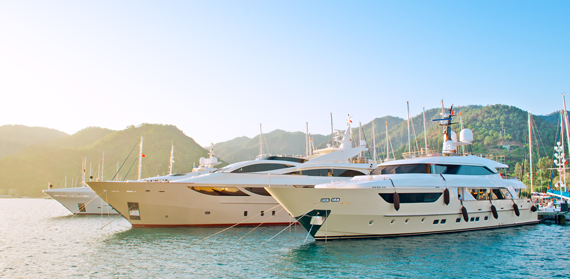 Thirdly, yachts and mega yachts remain a jewel in the crown for most countries, for instance, Italy has been the world leader since 2001, followed by the Netherlands, Turkey and the UK. Italy has been defined by the Global Order Book 'the world's leading yacht-production country' (The Global Order Book, 2010: 63). This is due to its historical tradition as maritime republics; the high standard of mega yacht quality and design; and the perfect elegance and refinement that go into making them up (Gleni, 2012). In general terms, the mega yachts sector represents a niche market that has attracted the attention and investment of small and big shareholders. One example of this is the acquisition of Ferretti (the Italian leader of shipbuilder) by a Chinese Group of Company (The Forbes, 2012).
Last but not least; on the one hand, the mega yachts sector has remained as one of the most prosperous markets despite the recession; on the other hand, it is worth pointing out that the top shipbuilders are however, affected by the financial crisis. In fact, they have been witnessing a decline in the number of mega yachts orders and consequentially of profits since 2009. This is due to the change of purchasing behaviours' of multimillionaires who now prefer to invest money in other sectors, e.g. jewellery, arts, vintage cars (The Wealth Report, 2015). Thus, if mega yachts builders want to remain competitive they should re-think the traditional business model or at the very least integrate it with new, innovative ideas. Indeed, Fiorakis' example represents one of the newer business models that old or emerging companies may choose to adopt in order to increase their revenues: seeing a gap in the market and using the financial crisis as an opportunity to upscale, not downsize. They can use unsold luxury ships by promoting the 'sharing' policy as Fiorakis' start-up has been doing.
Furthermore, shipbuilders require knowledge in order to implement new strategies that are not necessarily related to huge investments, as the Fiorakis' firm has taught us. Knowledge is fundamental for a company because it allows us to understand customer needs and the business environment which then allow the company to compete (competitively) in the market. How should they attain knowledge that is relevant? Universities and Research Centres are inexhaustible sources of knowledge, skills and expertise. As Michel Foucault states 'There is no power relation without the correlative constitution of a field of knowledge' (Foucault, 1977). Indeed, the mega yachts sector represents one of the unexplored areas of research, especially from a strategy and management perspective. Collaborative research, consultation and informed business innovativeness are strategically important to luxury shipbuilders. Working with resources within universities let's create an 'osmotic relationship'; a process of gradual and constant exchange of knowledge, skills and business ideas.
Comments
comments