Cry, the beloved country. EPA/Sedat Suna
Guest post by Professor Alpaslan Ozerdem, Centre for Trust, Peace & Social Relations
Another heinous terrorist attack has horrified Turkey and shocked the rest of the world. The target this time was Istanbul's busy Ataturk Airport and it is believed to have been the work of Islamic State gunmen who are thought to have entered the country before the beginning of Ramadan. The death toll is believed to be at least 41 people with many hundreds more reported injured.
Turkey has experienced a number of similar deadly attacks over the past six months by both Islamic State and TAK – an offshoot of Kurdish terrorist group PKK with which Turkey has been fighting an increasingly vicious war for many years. Attacks have targeted Istanbul, the Turkey's cultural and financial centre, and its political capital, Ankara. But Ataturk Airport is a particularly significant target, as it is the third busiest airport in Europe and hugely important for the Turkish economy.
The attack focused on the international arrivals zone in the airport, which is doubly significant because Turkey's tourism sector has suffered a serious downturn in recent months as a result of the various attacks. There had been hopes that a campaign of diplomatic rapprochement with Israel and Russia would help boost weak tourist numbers, but this is a devastating setback.
Ironically, on the day the attack took place, Turkey announced that it had reached an agreement with Israel over the attack on the Mavi Marmara in 2010 which left nine Turkish activists dead after Israeli commandos raided a flotilla bound for Gaza. Israel had agreed to pay compensation to families of the dead activists and allow Turkey to build a hospital in Gaza. The agreement will restore full diplomatic relations and will likely pave the way for a large natural gas deal between the two countries.
Turkey is also in the process of normalising its relationship with Russia following the shooting down of a Russian warplane in November 2015. Vladimir Putin offered his sympathies during a phone call shortly after news of the attack broke. He is understood to have instructed his government to begin the process of lifting the sanctions against Turkey that had been in place since the military clash. It has been suggested that the airport attack by Islamic State might even be a reaction to these positive recent developments.
Tensions have been high across Turkey since the breakdown in the Kurdish peace process last year. The armed violence in south-eastern Turkey has since risen to unprecedented levels.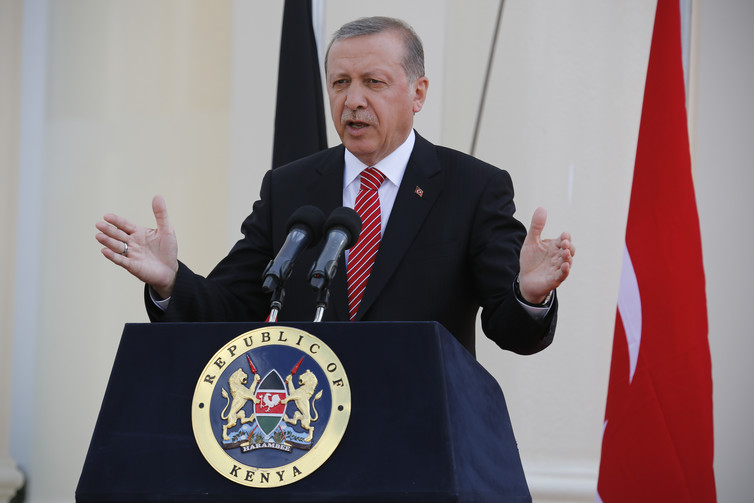 Power grab: Turkish president Recep Tayyip Erdoğan. EPA/Dai Korokawa
Domestically, Turkey went through two highly divisive general elections in June and November 2015 which were followed by the sudden removal from power in May 2016 of the prime minister, Ahmet Davutoglu, by Erdogan. Many saw this as a further step in the president's ambition to change Turkey's governance model to allow him to become an executive president.
No good news
Against such a backdrop of regional and political instability, Turkey continues to host nearly 3m Syrian refugees – and the conflict in Syria and Iraq, both of which share a border with Turkey, pose a wide range of constant regional security threats. The presence of Syrian refugees is increasingly becoming a destabilising factor in the country.
Turkey has always been a challenging geopolitical environment with its borders extending from the Balkans to the Caucasus and the Middle East. But the situation is now as volatile as at any time since the end of World War II. With the emergence of non-state armed actors such as Islamic State and disintegration of international borders drawn up in the aftermath of World War I, Turkey certainly is now in a demanding, divisive and dangerous place.
Looking west, the question of Turkey's EU membership continues to fester without much direction or vision. The recent deal on the resettlement of Syrian refugees, which was expected to lead to a visa-free regime for Turkish citizens within the EU, was expected to begin in July. But it has already been postponed over concerns about Turkey's anti-terror legislation. It is thought that the possible failure of this deal will mean that membership talks will once again be placed on the back burner.
And with all of these grim developments as a backdrop, it is thought likely that Erdogan will continue to further push his presidential agenda– at the cost of exacerbating the already deep socio-political divisions throughout the country.
Today, Turkey is a country with serious deficiencies in democracy, governance, the judicial system, human rights, the rule of law and – more importantly – security. Some commentators have even warned of the possibility of a full-blown civil war. More terror attacks such as this massacre at Ataturk airport can only serve to hasten the country down this dark path.
Originally written for 'the Conversation'.
Comments
comments