Just six months ago Coventry graduate Alfred Ajani hit the headlines when he found an ingenious way to secure employment in the competitive job market.
Alfred took to the platforms of Waterloo station with a placard stating the details of his sports marketing degree. The high-flying executive commuters were so impressed with his stunt – and his subsequent Twitter fame – that he received multiple job offers, and within two weeks Alfred was snapped up by recruitment firm The Asoria Group.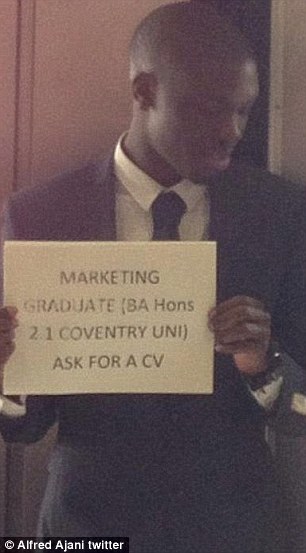 Today Alfred returned to the same Waterloo spot with a new placard, this time it said simply: "Now I'm hiring". His employers are expanding their workforce and have around twenty new vacancies. Alfred is hoping his newest placard will result in another media storm, hopefully attracting some fantastic applicants. Posted earlier today, Alfred's newest picture, encaptioned "Same spot, different sign" has now been retweeted over 2000 times.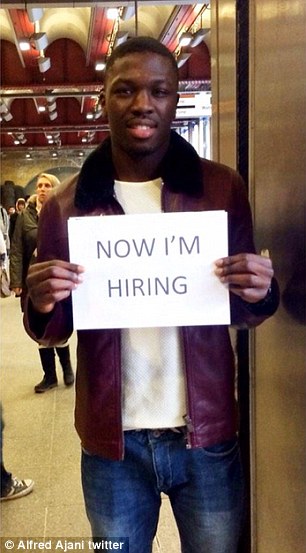 It felt great to be back at the same place and be looking for people who, like me a few months ago, are looking for a good job. I've loved my role since taking it and there hasn't been one minute where I've regretted my decision. It feels good to be putting something back and I'm hoping to take the brand to universities over the next year
This short film, produced by youth channel Million Youth Media (MYM) showcases Alfreds story of media fame. Summarising his admirable dedication MYM introduce the film with the caption "How far would you go for your dream job?".
Alfred has already received multiple CV's and applications through his Twitter account, so if you're interested in working with such a creative guy you'd better be quick!
Comments
comments