Spotlight on: Taekwondo Society
The Taekwondo society is a long running and well established sporting society here at Coventry University. However, this year they have a new committee, so things are starting to change! We've caught up with Taylah and Andrea ahead of Varsity to find out exactly what's going on, and why you might want to get involved!
Meet Taylah…
Course: Media and Communications
Hometown: London
Role: Treasurer
Length of time in Society: 1 1/2 Years
Favourite CU Taekwondo Society moment: When we're going to see our name on the fixtures list very soon!
…& Andrea
Studying: Childhood and Youth Studies
Hometown: London
Role: President
Length of time in Society: 1 1/2 Years
Favourite CU Taekwondo Society moment: The socials!
Taekwondo:
When: Wednesdays 19:00-21:00 & Fridays 16:00-18:00
Where: Priory Sports Hall
Joining fee: £30 per year (with your first 2 sessions for free)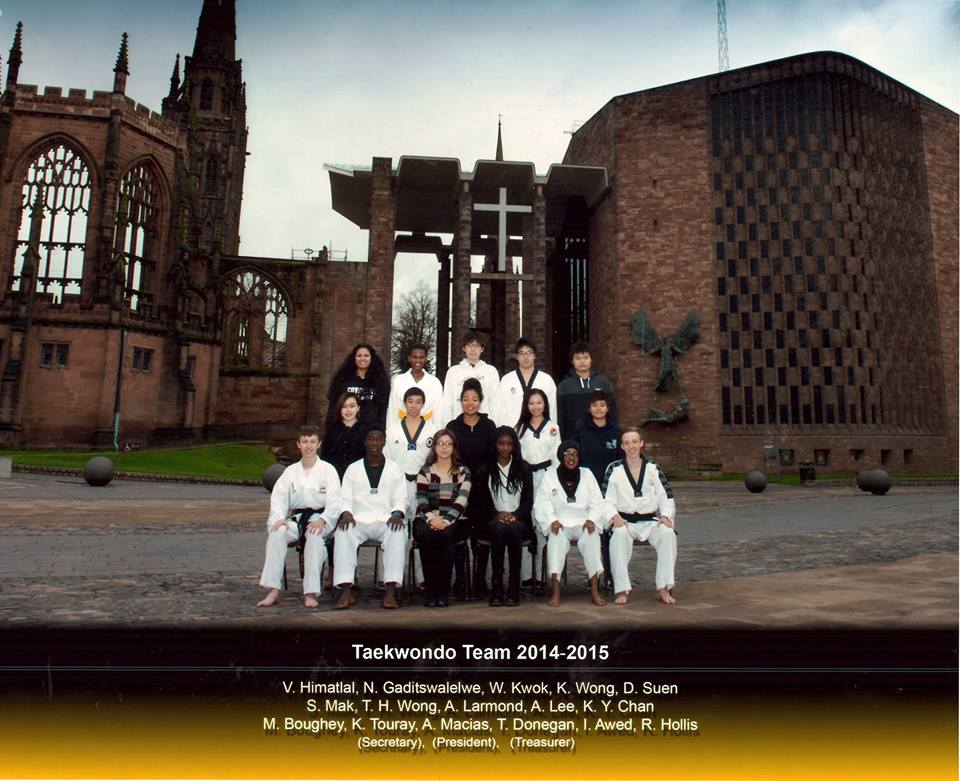 The society has moved forward with leaps and bound in the last year, and this month they will be competing in Varsity for the first time. Since Andrea and Taylah were elected on to the committee, the society have been competing in many more fixtures. They have secured additional funding, purchased printed uniforms for the team, and started making connections with lots of other Taekwondo societies up and down the country. They organise casual socials on a regular basis where members can get together and get to know each other. Taylah only joined the society in her second year of University, and had never tried Taekwondo before. She says it is now such a major part of her University experience that she can't imagine University life without being a member of the society. It's never too late to join!
Andrea describes the society as a family-type group who bond together over Taekwondo and enjoy casual socials in a pressure-free environment. Society training sessions are mixed-gender and benefit from both student and professional coaches. Best of all, in the spirit of encouraging everyone to join, they offer the first 2 sessions for free throughout the whole year, without having to commit to an annual membership. On the other hand, if you're more experienced with Taekwondo and perhaps fancy getting some teaching experience, the Taekwondo society will also welcome you with open arms. They're currently looking to improve coaching so that people are able to meet grades and attain a Taekwondo qualification, which they can take with them to their future clubs.
New Members:
Top 3 reasons you should join Taekwondo according to Taylah and Andrea:
– It's an interesting way to get fit
– You can learn something new
– You'll always enjoy the welcoming social environment
What can new members expect from Taekwondo?
A diverse family-type group, united by Taekwondo and welcoming to everybody.
Thinking about joining?
With your first 2 sessions for free, there's no excuse not to try it….you don't even need to fork out for expensive trainers, they train in bare feet!
You can find the Taekwondo society on Facebook here. They're a friendly bunch so don't be shy.
If you want to see what Taekwondo is all about don't forget to catch them at Varsity!
Comments
comments