In 2014, the LGBTQIA+ society were the winners of the 'best political & campaigning society' award.
The society provides a safe meeting space for anyone at Coventry University who identifies as Lesbian, Gay, Bisexual, Trans*, Queer or Questioning, Intersex, Asexual or any other sexual or gender minority. The group provides the opportunity for people to socialise, meet new people and get involved with some of their campaigning initiatives.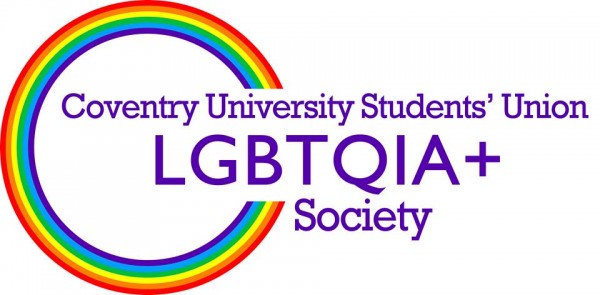 Meet Cain….
Course: Illustration & Animation
Hometown: Dover
Role: President
Length of time in Society: 2 ½ years
Favourite CU LGBTQIA+ Society moment: The 'Rainbows' social with lots of singing!
& Cameron:
Course: Business Management and Leadership at Coventry University College
Hometown: Lincoln
Role: Vice-President and LGBT* Student Counsellor for Coventry University
Length of time in Society: 4 Months
Favourite CU LQBTQIA+ Society Moment: Meeting everyone!
LGBTQIA+:
When: Every Thursday night for meetings & Tuesday nights for socials
Where: Thursdays – Hub at the Information desk, Tuesdays – Quids Inn
Joining fee: £3 for the whole year – first meetings are free with no obligation to join!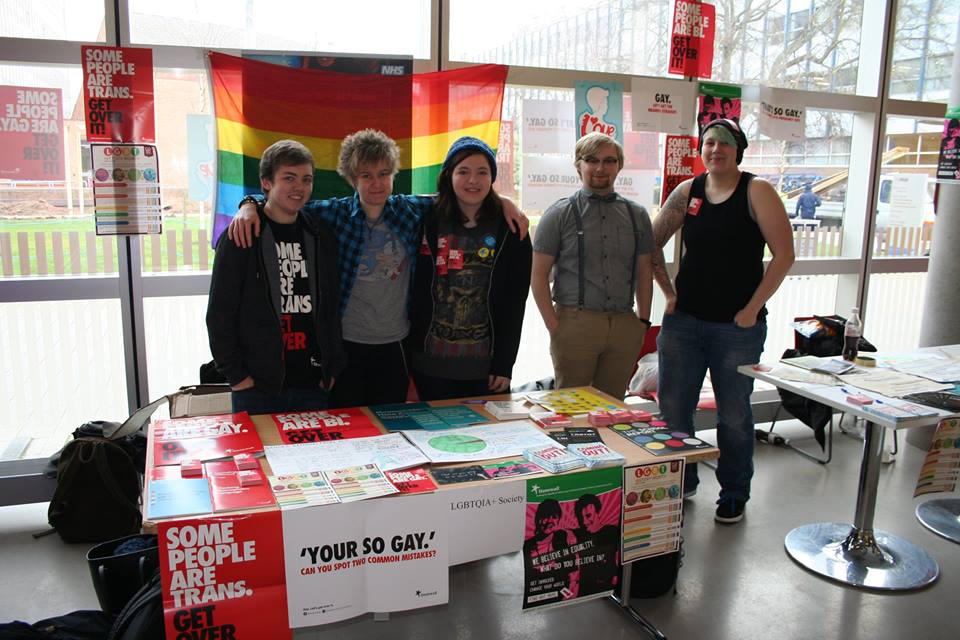 The society participates in a range of activities, from charity fundraisers, campaigns, laser tag, drinking socials, club nights and movie nights. Social evenings occur every Tuesday at Quids Inn, which is a location with a relaxing and welcoming atmosphere. Last term, the LGBTQIA+ society held joint laser tag events with the Gender Equality Society. This allowed everyone to have the chance to make more friends and get to know each other better. It helped both societies with their team building ahead of the campaigns that will take place this year. Cain's highlight of the last 12 months is seeing how all members have come together, whilst Cameron's highlight has been meeting lots of new people and making friends! As a relatively new member, he has found it relatively easy to fit in. The society has become a big part of his university experience.
The highlight of 2014 has been having the motion for Gender Neutral toilets through to the board of governors. This is something that the society has been pursuing for years. Their future campaign plans include the 'Think Outside the Box' campaign, coming to campus at the end of February (stay tuned for more on that!), and getting involved in organising this years Coventry Pride. On the social side of things, Cain has plans for a big trip to a theme park or something similar over the summer!
New Members:
Top 3 reasons you should join the LGBTQIA+ Society
It's a safe space for everybody, you can meet lots of new friends, and its a really relaxed society!
What new members can expect from this society?
Lots of joking! (& lots of drinking) and if you're campaign minded there's plenty of opportunity to get involved with their numerous campaigns and initiatives all around campus.
What advice would the society give to anybody that wants to join?
Definitely come along to one of the meets – your first one is free!
If anyone wants more infomation or is feeling nervous about coming along feel free to get in contact with Cameron or Cain via lgbt.su@coventry.ac.uk
You can also contact them via Facebook and Twitter
Comments
comments