Coventry's Priory Undercroft is an extraordinary cultural site that houses the remnants of an enormous cathedral. The most remarkable thing is that the foundations, walls and broken staircases were buried for 400 years!
They were only discovered in 1999, after the council invited  Channel Four's Time Team to investigate the land:
The team was so impressed with their unprecedented discovery that they stayed longer than their strict '3-day' deadline and returned to the site a year later. Over the years, the foundations have been explored further and many medieval artefacts have been found. The site is now fully open to the public, with the foundations fully excavated and adorned with sympathetic lighting and subtle information boards. Watch the full Time Team episode here
"I don't think anyone dreamed that we would find archaeology so well preserved. This is the most important cathedral site to have been dug in the last quarter of a century. We were here for three days but it was so exciting – we discovered a body at the end of the third day and had to stay to find out more about it. So in total we've been here for seven days which is a record. I would say this ranks among the top three sites we've ever done."  Tony Robinson speaking to Coventry City Council. Images from 'Historic Coventry'
Wait, there was a third Cathedral?!
There sure was! Way back in the 11th Century, Lady Godiva and Earl Leofric founded a Benedictine monastery, dedicated to St Mary. In 1102, Coventry gained its first Bishop, Robert de Limesey. He began to adapt the monastery building and it was slowly converted into both a priory and a cathedral, called…St Mary's Priory and Cathedral: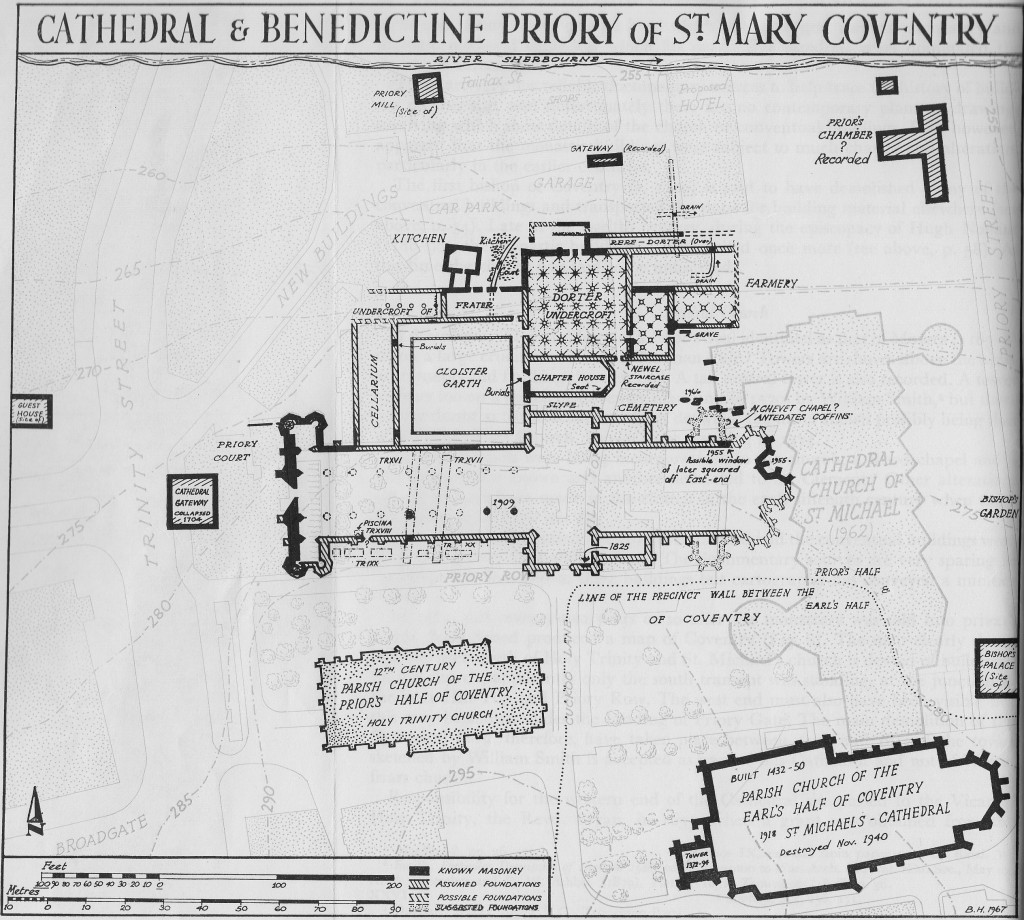 As you can see from this plan, the resulting cathedral was enormous, way bigger than anything we have now. The plan above shows all three cathedral ruins superimposed on a modern street plan. The 2nd Cathedral (known as the Old Cathedral) that was destroyed in the war is in the bottom right corner, the new Cathedral (the faint zigzag style building) backs onto it and the much larger building is St Mary's, i.e. the third cathedral!
The construction of St Mary's took over 125 years and was finally completed in 1250. Unfortunately in the 16th Century, King Henry V111 ordered the destruction of the cathedral, as the townspeople were unable to raise funds to buy it from the church. It was over 200 years before Coventry would have a Cathedral again. The Parish Church Cathedral of St Michael (i.e. The Old Cathedral) was built in 1432-50, but we all know what happened to that one!
Comments
comments