Summer has finally arrived! To celebrate, we found these quick and easy recipe ideas to cool you down and satisfy even the sweetest of teeth.
Now, we realise that many of you will be working hard to get that beach body ready for your holidays – but we're all entitled to the occasional treat, right?
Here are four of our favourites… Just please don't blame us if the diet goes down the pan!
Eton mess
An ultimate summer classic has to be an Eton Mess, the perfect way to end a BBQ with your friends. It's SO simple to make, always tastes delicious – and the ingredients are cheap so making it won't break the bank! Simply whip up a large pot of double cream into a bowl (add a bit of icing sugar to the cream if you want to sweeten it up further!), throw in some crushed meringue nests, chopped strawberries and then our top tip – a pack of frozen berries. Gently fold the contents of the bowl and then serve into a wine glass, glass tumbler, or any other round shaped, serving platform you have lying around! Sprinkle a few more bits of crushed meringue and a fresh strawberry on top of each portion. DONE!
Pancakes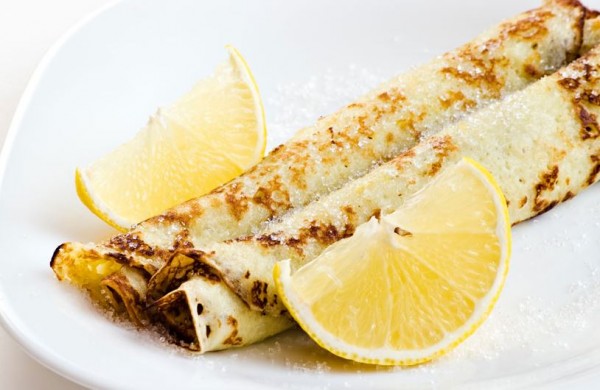 Who says pancakes are just for Shrove Tuesday? Well we don't! If it makes it more acceptable then lets call them crêpes, which are a delicious treat any time! Pancakes can quite often be forgotten about at other times of the year, but they are so quick and easy to make; eggs, milk, plain flour, and a pinch of salt. (The amount of each will vary depending on how many you plan to make). Make sure the frying pan is nice and hot before you pour the mix in – and best of luck with the attempts at flipping!
Whatever your topping or filling of choice may be, here are a few other ideas for you to try:
– Sugar and Lemon
– Nutella and Banana
– Chocolate and Strawberry
– White Chocolate and Raspberry
– Banoffee: Toffee sauce, Banana, Squirty cream
– Tropical Temptation: Vanilla ice cream, Pineapple, Coconut chocolate bar (crumbled)
 Banoffee pie
If our scrumptious Banoffee pancake has got you addicted to the taste, then why not try making the traditional Banoffee Pie? It's certainly a crowd pleaser and is another easy recipe! It can wow at a garden party, or be pure indulgence for you and your family (if you're willing to share that is!)
We have a very simple 'cheat' recipe, which involves just a handful of ingredients and is made in minutes. A shop bought pastry base can be your starting point – or as a tasty alternative, crush up a pack of ginger biscuits in a bowl and mix in about 75g of melted, unsalted butter. This will bind together the crushed biscuits, enabling you to pour it into a cake tin, and give it a quick bake (5 minutes at 200˚C) then leave to cool
To creating the pie filling, cover the base generously in sliced banana and pour over a tin of carnation caramel. The top layer is whipped double cream (use our previous icing sugar tip if you wish). Finally, garnish with some flaked milk chocolate. Place the pie in the fridge to firm up until serving, or you can pop it in the freezer for half an hour to speed it up a bit!
Vanilla & strawberry cheesecake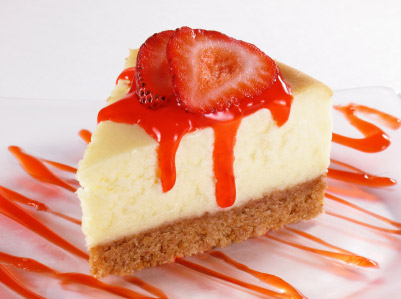 We realise that strawberries may have popped up rather frequently during these recipes, but there is no denying that the British strawberry is the quintessential summer fruit. They are readily available at this time of year, and we figure you might as well enjoy a yummy treat whilst getting one of your 5-a-day! A delicious strawberry and vanilla cheesecake is ever so slightly more technical to create, but this is still a fool-proof recipe and sure-fire winner!
The base can be copied from the previous Banoffee pie recipe, but here you can swap in digestive biscuits instead if you so wish. The cake mix itself is a big tub of soft cheese (about 600g), 100g of icing sugar, and the seeds of a vanilla pod (or 1 ½ teaspoons of vanilla extract if you prefer) that is whisked until smooth. Then pour in a large pot of double cream to this mix and continue to whisk until it all combines nicely. This is then put on top of your biscuit base and smoothed over, before putting it in the fridge to set until serving. When ready to go, place chopped strawberries generously over the cheesecake, with some fruit coulis poured over the top. Now you just have to fight over who gets the first slice!
And there we have it! Four famous sweet treats to impress your friends, family, or for just pure self-indulgence over the summer! Each dessert should cost no more than £5 to create, and in our eyes, it will be money well spent.
Comments
comments