Coventry has a long and broad history that many of us are completely oblivious to. However, visiting the museums and galleries listed below will soon help you discover the city's cultural history.
Whether you're completely new to Coventry or have been here for a while, if you're looking for something local to do over the summer, then this post is for you!
The Herbert
The Herbert is probably the most well known museum and gallery in Coventry. In fact if you're already a student here, you've probably already walked past it hundreds of times because it's just behind our Student Hub! But have you ever ventured inside? If not, you definitely should. Admission is free (although some touring exhibitions have a small entrance fee) and it's open Monday-Saturday 10am-4pm, and Sunday 12pm-4pm. The Herbert hosts a wide range of temporary exhibitions throughout the year, and has a permanent exhibition of the history of Coventry including the story of Lady Godiva.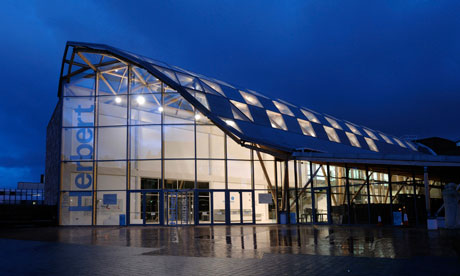 2-Tone Village
2-Tone Central in Coventry is a creative and cultural venue located just outside the city centre, and is well within walking distance of the university. The 2-Tone Village is home to attractions such as their 2-Tone themed café, a Caribbean restaurant, a clothes and memorabilia shop and Coventry's very own wall of fame. The 2-Tone Village is open Thursday-Sunday 10am-4pm and entrance is free to the Café, restaurant and shop. Find out more about Coventry's very own music genre here!
Coventry Music Museum
Coventry Music Museum is located within the 2-Tone Village, although over half of the museum features non-2-Tone artists. It boasts exhibitions covering the musical history of Coventry and its surrounding areas. The museum takes you on a musical journey from the time of the Roman era to the present day, covering artists including Frank Ifield, The Specials and The Enemy. It has several permanent exhibitions in place including The 60's Soundbooth, Into the 90s, New Millennium Sounds and Acorns for Peace. The opening hours are Thursday-Sunday 10am-4pm, with entry costing just £2 for Adults, and £1 for under 15's.

Coventry Transport Museum
Coventry Transport Museum is home to the largest collection of British Road Transport in the world. Entrance is free, and Coventry Transport Museum caters for all ages, making it a great day out for the whole family. If you're interested in cars, or motor vehicles of any kind, this is definitely not one to miss. Exhibits on display include the record-breaking Thrust2 and ThrustSSC, and the 4D landspeed record simulator. If you haven't visited already you should definitely take advantage whilst you're in Coventry, and with it being recently refurbished, there's even more reason to check it out. Oh and it also has a great gift shop!
West Midlands Police Museum
West Midlands Police Museum is located in Coventry Police station and documents the history of the West Midlands Police Force. The museum is free to enter, and accessible to the public by prior appointment or on specific public open days. In the Coventry branch of the museum, you can find exhibits documenting previous jobs that the police have had to do in the past, present and future, including documentation of the death of Mary Ball, the last woman to be hanged in Coventry.
So there you are, Coventry has a world of history and culture just waiting to be discovered, and what's more, most of it is free to access! Why not set yourself a challenge and see how many you can visit over the summer? Be sure to share your photos with us on Twitter and Instagram.
Comments
comments