This is an exciting week for international students – enrolment begins on the 14th of September. This international-only enrolment week allows new students the time to find their feet within a completely new city, and get to grips with our student campus.
So it's the start of your new University life. You're all packed and ready to go. You've said your final goodbyes and your friends and family are waving you off. All that's left is that four & half thousand mile cross atlantic flight you have to take…HOLD ON, WHAT?!
Well that's what the journey can be like for our international cohort! Starting a degree course is a huge step, especially in a foreign country. However, there are loads of other things that need to be sorted out before that can even take place.  To make it easier we've explained the enrolment and induction process right here, simply follow these steps to ensure a smooth start to your course.
Documents
However, before this happens there are a some vital documents that you need to bring with you before any of that can happen!
These are…
Passport with current visa and Coventry University sponsor licence endorsed
Documents quoted on your CAS letter, including:
– Original academic award certificate
– Original transcripts of prior qualifications
– Original English Language proficiency certificate
Your CAS letter print-out
Biometric Residence Permit (BRP) – if applicable
Evidence of your deposit payment.
INFO: Due to Home Office and University regulations, you must fulfil all of the above conditions before or at enrolment, otherwise we cannot enrol you onto your course. There are no exceptions to this.
---
Enrolment
Now that's out of the way, you need to know where and when your enrolment will all be taking place and all of that can be found detailed below…
Where? Student Centre, 1 Gulson Road, Coventry, CV1 2JH
When? Enrolment dates and times vary: you can either find them here or the schedule is posted below.
---
Travel
Meet and Greet Service:
Here at Coventry University we try to make every aspect of our students experience as easy and enjoyable as possible. In light of this we offer both a free and a premium meet and greet airport service for our international students. Whether you're flying in to Heathrow or Birmingham Airport, you'll be able to arrange transportation to the campus, or directly to your accommodation. Click below to find out more:
LATE/DELAYED FLIGHTS: Don't worry, if the worst comes to the worst and your journey is delayed for some reason, you can (& must) contact the relevant International department to inform them of your new plans. Contact details can be found below:
Americas  

americas.io@coventry.ac.uk

Africa  ssafrica.io@coventry.ac.uk
East Asia  eastasia.io@coventry.ac.uk
Europe/Russia/Central Asia  erca.io@coventry.ac.uk
Middle East mena.io@coventry.ac.uk
South Asia

 southasia.io@coventry.ac.uk

South East Asia  seasia.io@coventry.ac.uk
Rest of the world  row.io@coventry.ac.uk
INFO: You must also contact our accommodation team if you have received, accepted and paid a deposit for a University affiliated accommodation place, informing them that you'll be arriving late. They will reserve a room for you once you have emailed them explaining your situation, the contact email is as follows: unihalls@futurelets.co.uk or call 02476 158158.
Please note, if you are unable to enrol before the deadline for enrolment, you must contact the International Office before you make any plans to travel. Coventry University cannot guarantee students will be able to enrol after the deadline given on their CAS. 
---
Induction
So you've got your foot through the door and your bags have hit the floor, but actually you're just getting started! Now it's time to start learning – Your induction week will introduce you to the lecturers, academics and students you'll be working alongside, as well as the faculty buildings you'll be using most. This period will also be a great way to discover more about the city you're now studying in. There are loads of great things to do and see in Coventry and you can find most of it here.
During the induction period you will complete all of the enrolment formalities that will allow you to have a smooth start to your new course, like collecting your student I.D and officially joining Coventry University.
There is also an induction timetable full of helpful events available to Intentional students, such as city and campus tours, immigration talks and library inductions. All the information regarding these events and a full timetable can be found here. The timetable is also posted below: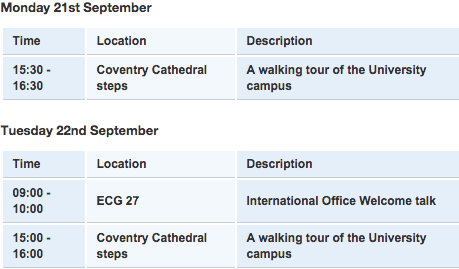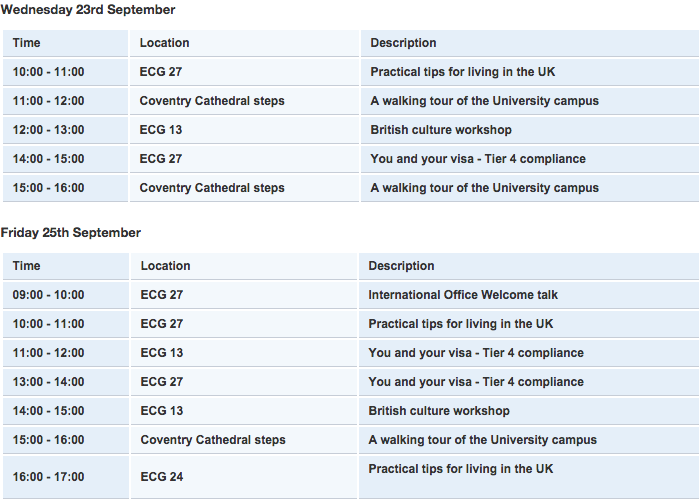 Comments
comments