Last week we introduced you to our Digital Copyrighter, Tash – one of the latest additions to the UnCOVered team. Now meet another new member…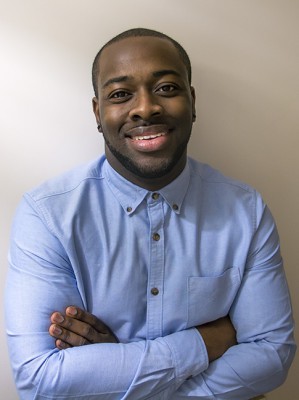 Hi there, I'm Rob! I recently joined Coventry University's Web Team as a Web Officer. I contribute to the general management of our website content and our online campaigns.
Our websites are our most important communication tools, and since this university is home to over 27,000 students it might be an understatement to say that there's quite a lot to do here…
As seems to be the case with many people who work in web content management or web development, it's not something I grew up knowing I wanted to do. Actually, my first passion was music – from playing classical piano in school concerts to sequencing Drum & Bass tunes in my bedroom and dreaming…
After spending a couple of years volunteering in recording studios as a sound engineer, playing in sessions and producing dub plates for local DJs, I eventually offered my support to an up-and-coming social media platform for musicians through some connections I'd made. What started out as an offer to help moderate forums, and attract new users through online campaigns, suddenly transformed into me assisting in the management of the entire website. It was a very different world to what I was used to but I picked it up quickly and enjoyed the challenge presented by the various teething problems we faced along the way.
I especially enjoyed how varied the role could be. One day I could be helping to write code or design layouts, the next I could be interviewing musicians or reviewing club nights (a great way to blag your way onto a guest list, by the way). I had never envisioned myself working in what I would have naively pigeonholed as an "office job" but it was a valuable lesson that many roles out there are far more dynamic and rewarding than they may appear to be from the outside. It's always best to keep an open mind.
A few years later I landed a Web Officer position within the web team of a higher education institution – another big change for me – where I built microsites for research groups, produced web analytics reports and managed digital marketing campaigns. This challenging and valuable experience ultimately paved the way for my arrival at Coventry University.
So in a nutshell, that's me! I've joined a vibrant team here where people focus on collaboration instead of working in silos, and where creativity is encouraged; that's a great environment for anyone to succeed in, so I'm excited to be here.
Outside of my work life you can usually find me cowering behind myself sofa watching Andy Murray's matches, mixing on the decks in my living room or trying to find the elusive "bright side" to Birmingham City FC's performances…
I'm looking forward to contributing to future blogs, so keep an eye out for me!
Comments
comments