The UK's biggest gaming festival 'Insomnia58' took place in Birmingham over the Bank Holiday weekend. Our student social media assistant Kyle brings you his review of all the happenings at the festival. Warning: you might find out you have the heart of a gamer…
Video games are an inescapable part of our culture nowadays, but it's safe to say that a lot of people don't take them seriously. Fortunately the Insomnia58 gaming festivals put gaming in the spotlight and celebrates them properly. The twice yearly event happens in the NEC in Birmingham and showcases the latest video-games, professional gamers, cosplay and eSports, as well as more than a few special guests. It's the biggest gaming festival in the UK and ran over the entire bank holiday weekend.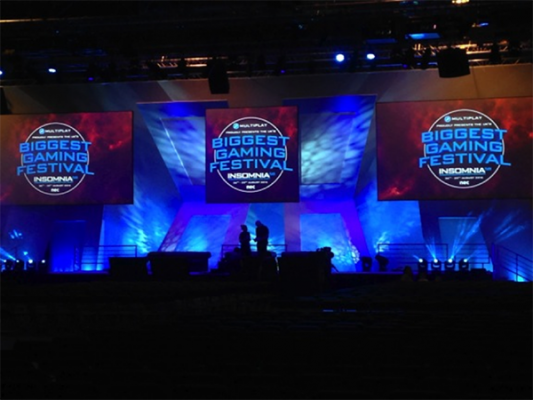 I along with my brother and a couple of friends attended last friday, the first day the festival was open. Now I've been to a fair few conventions in the past, and the first thing you learn is to expect a long, looong, looooooong line for entry passes. As well as some pretty sore legs from standing the whole time. Luckily though, Insomnia didn't have this problem! While there were still plenty of people lining up, once the festival opened it only took a few minutes to actually get into the hall and start playing some games.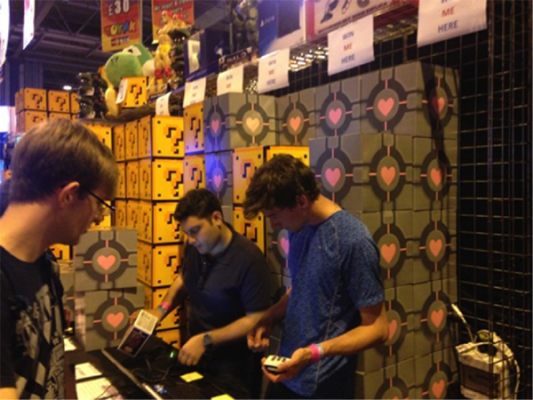 Aside from the entry lines, the second thing you learn as a con-goer is that hall size is essential. It's nice to have some breathing room while you're browsing an event, rather than being squashed against everyone as the crowd moves through the space. The Insomnia festival itself takes up about 4 halls within the NEC: the exhibition hall, main stage, eSports hall, and finally the BYOC (Bring your own Computer) halls, plus food stalls which were scattered around each area. Thankfully for me and my friends Insomnia had space to spare. There was more than enough space between stalls to comfortably walk around, and you were never too far from what you wanted to see. So if you end up losing someone, like we did a few times (whoops!), it's super easy to find them again!
The main draws of insomnia are, unsurprisingly, the games you can play. There's a great selection on offer, well if you can grab a controller before someone else that is. Xbox and Playstation both had huge areas all to themselves. In the Playstation area you could try out their new VR headset and get a taste of virtual reality. Or you could just watch other people try it out and have a little laugh at them grinning and spinning around, that's what we ended up doing… the line was too long for us to give it a go.
The Xbox section had a lot going on, they had some of their upcoming games on display. I had more luck over here and actually managed to grab a controller a couple of times. One of the games I got to play was ReCore, a great action adventure shooter that was actually pretty enjoyable and easy to get to grips with. Aside from the great games Xbox also had their own ice cream truck that gave you an ice cream for each game you played!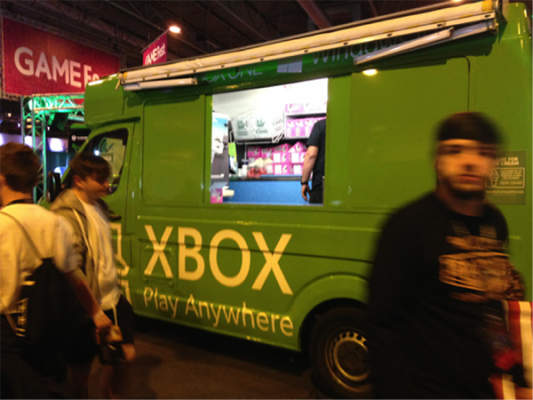 Of course Xbox and Playstation weren't the only ones there. There was a great Indie and retro games section as well. As you'd expect both of these sections were full of people trying out new games they didn't know about, or taking the chance to play some classic games like, Mario, Sonic and Smash Bros Melee on their original consoles. I tried my hand at some Smash Bros, and was very quickly defeated by some old pro's who have been playing since it first came out.
The eSports section was our next stop. Insomnia has a wide collection of different eSports games like Overwatch, Hearthstone, League of Legends and Cs:Go. Pro teams and members of the audience are able to compete, although you'd have to have some great skills to win. The competition is fierce, especially as the grand prize for one of the tournaments is £10,000. We caught a couple of the League matches and the Cs:Go finals. It was great to finally be able to see a live eSports tournament, they were really enjoyable to watch and the audience was full of energy. I didn't manage to compete myself, but maybe I will if I can get some training in. I'm sure pursuing my Pro-eSports career is a good enough excuse for why I handed some work in late… right?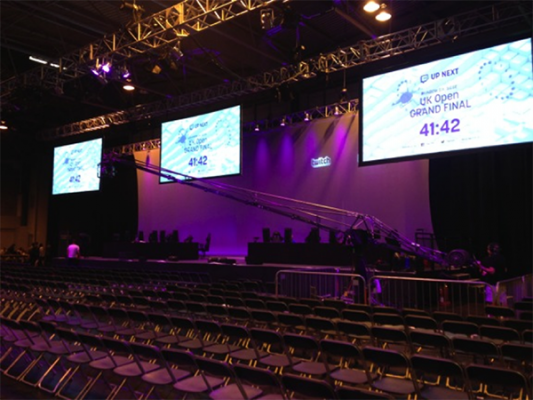 The last area of Insomnia is the BYOC (Bring your own computer) hall. This is the section that the camp-out people have come for, did I mention there's an indoor camping area for people attending all weekend long? Because there is, and it's pretty cool. In this hall there was row after row of computers and consoles hooked up for people to play against each other all weekend long. While it might not be everyone's idea of a good time, it's a really great experience for everyone there. Not only can you play some great games, it's also an opportunity to make some like-minded friends and meet all kinds of different people. No matter what your opinion of 'gamers' is, you'll find that almost everyone is super friendly and awesome.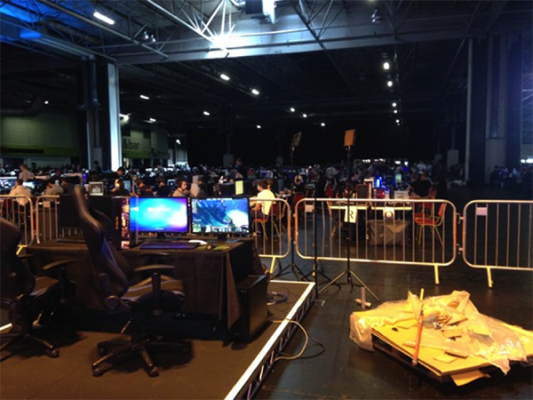 If you've never attended a con or festival before, I would highly recommend you try this one out as a starter. It's a great experience and it's super close to Coventry. So if you want, you can go all weekend and still sleep in your own bed, if camping isn't your style. Insomnia58 is a really fun experience and full of great and friendly people. Give it a go, even if you don't like games all that much, you might be surprised by how much you enjoy it.
Comments
comments