When watching The Great British Bake Off, it's almost impossible not to start pining after something sweet. I know what you're thinking, 10 weeks of filling your face with delicious baked goods could have a bad effect on your health. Which is why this week, we've done a slightly healthier bake to see how it compares.
While visiting family this weekend, I thought it would be the perfect opportunity to do some Sunday baking! I enlisted the help of one of the best bakers in my family, baking isn't my strong point, so if you're going to learn, you learn from the master right?
We found an awesome looking Bakewell Tart recipe from The Happy Pear (who are amazing and worth checking out if you don't know who they are), which for us was perfect as we're both big fans of the flavours! This recipe is gluten free, vegan and paleo so is pretty much suitable for most people.
We started off by making a shortcrust pastry…sounds time consuming and a faff but it really wasn't! As this recipe is a healthier version, all the pastry requires is flour, coconut oil, water and a pinch of salt. We used plain flour, but to go for a gluten free version, you can use buckwheat flour or any alternative. Once this was all mixed together, we put it in to a lined cake tin and popped it in the fridge to chill, then 'blind baked' it for around 15 minutes.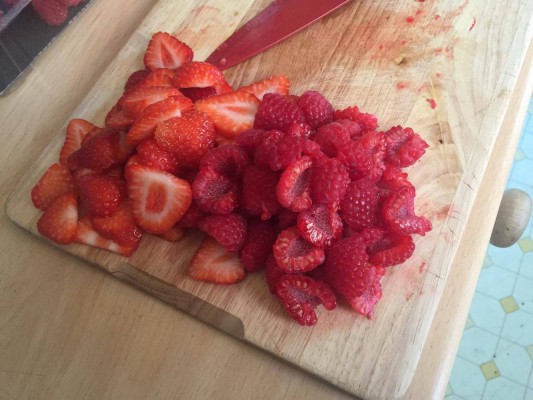 I  chopped up fresh strawberries and raspberries for our fruity filling, a traditional Bakewell tart would call for jam, so this is another great healthy swap! We added the berries to the base once it had cooled slightly.
For the frangipane (great word), we mixed together ground almonds, coconut oil, maple syrup, baking powder and a flax egg. What's a flax egg I hear you ask?! It's ground flax seed mixed with water, which you then set aside for 10 minutes. It becomes a 'gloopy' egg like mixture! This then helps to combine all the ingredients, like an egg would.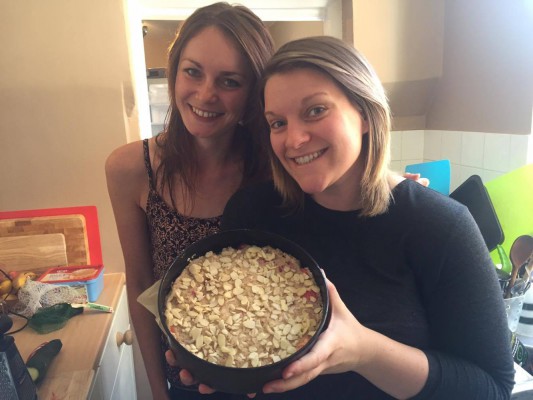 Once we'd finished mixing everything together, we poured it over the base and fruit and topped with flaked almonds. After a quick group photo, the tart went into the oven for around 45 minutes, we took it out once the top was lovely and golden brown. Valuable lesson learned – let it cool before opening the spring cake tin, otherwise it falls apart… This happened to me and after a slight panic we did the tin back up and I was told to step away.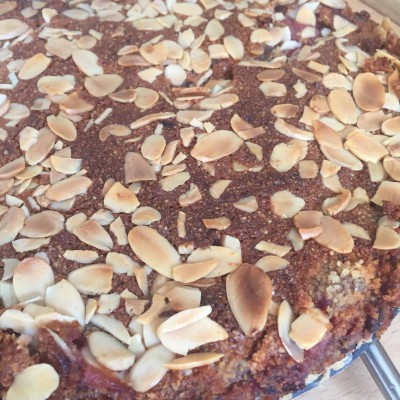 Considering this uses coconut oil instead of butter, maple syrup instead of refined sugar, and flax seed instead of an egg, it was absolutely delicious and you wouldn't know it was made out of healthier alternatives! For me, it was a fairly easy recipe to follow, even though I had some help, I think I could tackle it solo too. I highly recommend it! The full recipe and instructions can be found here. Enjoy!

During the same afternoon, we also baked another recipe so keep your eyes peeled for that one! If you've been doing some baking, let us know in the comments below or via social media.
Comments
comments