It might be a little late, but here's our Bake Off bread challenge! We got our student blogger and general non-baker Kyle to step into the kitchen and put his baking skills to the test. You're sure to loaf this one.
I'll be honest: I'm not really much of a cook, in fact I try to stay out of the kitchen as a general rule. So I was a bit daunted by the prospect of baking bread, as it seemed a little out of my skill range. Plus to the shock of a lot of you, I'm sure, I've never even seen a single episode of Bake Off… So I was almost entirely unprepared for this challenge. However, I'm not one to back down from something I've agreed to! So here's my novice attempt at an Italian herb bread recipe I found on Allrecipes UK: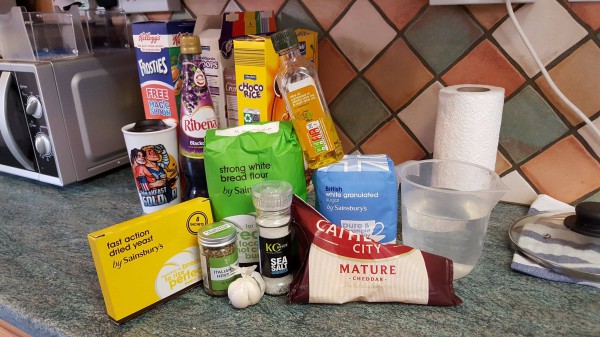 Ingredients:
600g Bread Flour
15g Dried Yeast
2 Tablespoons Mixed Italian Herbs
50g Grated Cheese
4 Tablespoons Olive oil
450 ml (16 oz) Warm Water
2 Tablespoons Sugar
1 Minced clove of garlic
1 Tablespoon Salt
Equipment:
1 Mixing Bowl
1 Bread Tin
1 Large Bowl
Weighing Scales
1 Wooden Spoon
1 Cheese Grater
Baking Paper
So first things first, MEASURE YOUR INGREDIENTS BEFOREHAND! I didn't. And ended up making a complete mess. A 'flour covering the counters' kind of mess. Luckily the yeast came in 15g sachets and was, unsurprisingly, the easiest ingredient to use.
Next, pour your yeast and sugar into a bowl then addd warm water to the mix. Leave to settle for around 5 mins until it looks kinda foamy. After that add your cheese, salt, herbs, olive oil and garlic.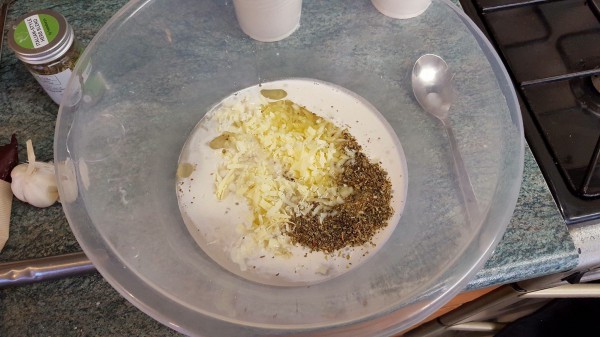 Top Tip #1: Make sure you have minced your garlic, I chopped mine… this was a mistake. If you chop the garlic YOU WILL end up with big lumps of garlic in your bread, YOU WILL not realise your mistake and YOU WILL feel regret!
Mix that all together and slowly add half of your flour. Mix it in and once you feel the mixture start to stiffen up, add the rest of your flour. Then comes the fun and extremely messy part: shove your hands in the mix and knead, knead, knead.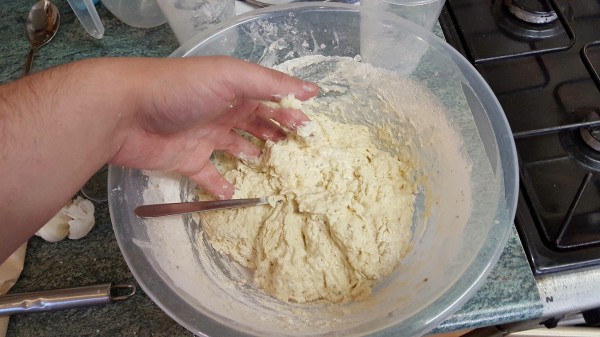 Top Tip #2: If you have to take pics of your process tell a friend you knead some help. Otherwise you're left with a dough covered phone and more mess than you realise. 
Once you've fought your dough for around 10 mins it should have a smooth rubbery texture. Once you have achieved that, oil up your second bowl and pour your dough into it. Cover it with a damp cloth and leave it to rise for about an hour.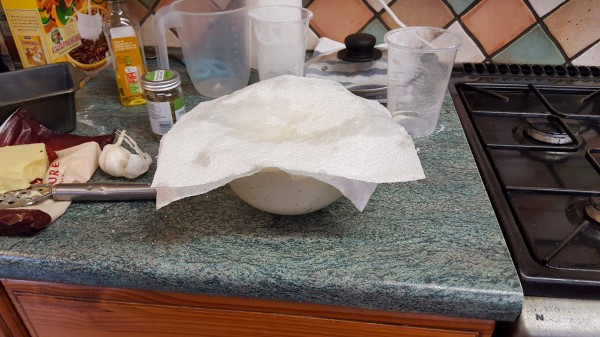 Top Tip #3: Don't use a damp paper towel… just don't. It will stick and fuse with your dough as it rises, causing your housemates to laugh at you as you attempt to untangle it.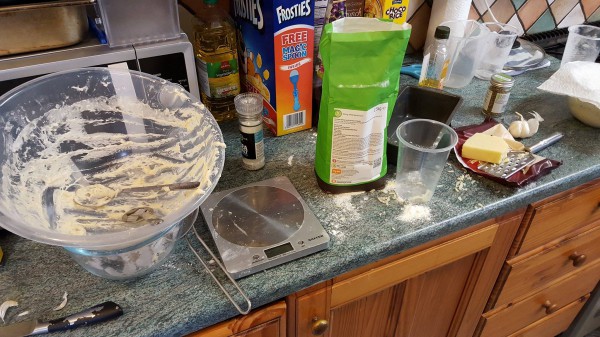 As your dough rises take the opportunity to clear and clean your workspace. It'll save you leaving it 'til the end and your housemates will thank you for it.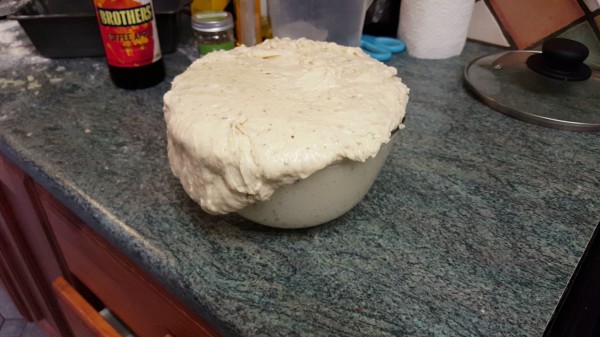 Top Tip #4: Research how yeast works. I forgot. Also make sure you have a large bowl. 
Once your yeast has risen, take off the damp cloth and prepare to start baking! Well… almost. First you need to knead the dough again and get rid of all the trapped air inside it. You don't want it exploding as it cooks.
Once you have done that, line your bread tin with baking paper and pour your dough into the mould. Now you're actually ready to bake!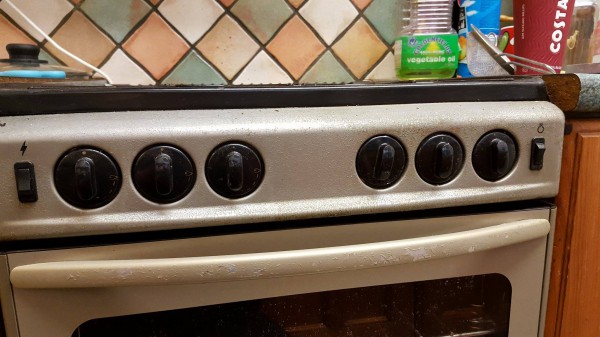 Top Tip #5: Use an oven that actually has numbers. My one doesn't and it makes baking bread a temperature guessing game. 
Heat your oven to around 180 degrees and then place your bread inside. Bake it for 30-40 minutes, if you don't think it's quite baked through, push a knife through it. If it comes out clean your bread is ready to eat.
Once it's finished baking, take it out and let it sit for 15 minutes before slicing into it and using it for your sandwiches.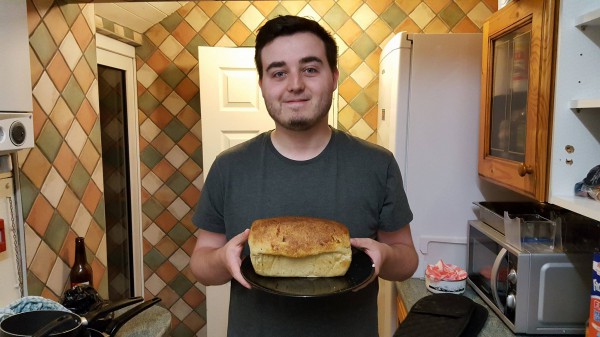 There you have it! Italian Herb Bread. Not even burnt or anything! Plus my friends and housemates told me they liked it and they probably weren't lying. So go and give it a go, if I can make it you definitely can!
Got any bread recipes you'd like to share? Or think you can challenge Kyle?! Let us know in the comments, and keep baking!
Comments
comments